Publication:
La Gastrina: hormona con múltiplesfunciones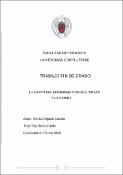 Authors
Advisors (or tutors)
Editors
Abstract
La gastrina es una hormona gastrointestinal polipeptídica secretada por las células G del antro gástrico. Su función principal es la estimulación de la secreción de Ácido Clorhídrico (HCl), a nivel de las células parietales del estómago. El HCl es uno de los compuestos químicos liberados en el estómago cuando consumimos alimento. El papel del HCl en el estómago, junto con los otros jugos gástricos, es descomponer los alimentos y causar la liberación de enzimas que favorecen la digestión. El HCl también protege al organismo ya que destruye patógenos que se encuentran comúnmente en los alimentos. Existen alteraciones fisiológicas en la secreción de la gastrina que provocan ciertas patologías, principalmente destaca la hipergastrinemia, la cual puede derivar en multiples efectos, desde una úlcera péptica hasta el cáncer. Entre estas consecuencias, es importante destacar el Síndrome Zollinger-Ellison, se define como una endocrinopatía caracterizada por una secreción ectópica de gastrina, la fuente de secreción de esta hormona son pequeños tumores localizados tanto en el páncreas como en el intestino delgado, denominados gastrinomas. Concluimos que la gastrina es una hormona que ejecuta un gran papel en el metabolismo del organismo a través del control de la secreción de HCl y cuya alteración supone graves patologías para el organismo.
Gastrin is a polypeptide gastrointestinal hormone secreted by the G cells of the gastric antrum. Its main function is the stimulation of the secretion of hydrochloric Acid (HCl), at the level of the parietal cells of the stomach. HCl is one of the chemical compounds released in the stomach when we consume food. The role of HCl in the stomach, along with other gastric juices, is to break down food and cause the release of enzymes that favor digestion. HCl also protects the body by destroying pathogens commonly found in food. There are physiological alterations in the secretion of gastrin that cause certain pathologies, mainly highlight the hypergastrinemia, which can lead to multiple effects, from a peptic ulcer to cancer. Among these consequences, it is important to highlight the Zollinger-Ellison syndrome, defined as an endocrinopathy characterized by an ectopic gastrin secretion, the source of secretion of this hormone are small tumors located both in the pancreas and in the small intestine, called Gastrinomas. We conclude that gastrin is a hormone that plays a large role in the metabolism of the organism through the control of HCl secretion and whose alteration involves serious pathologies for the organism.