Publication:
Caracterización estructural y funcional del complejo mTORC2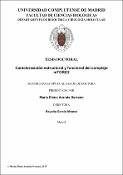 Files
Authors
Advisors (or tutors)
Editors
Publisher
Universidad Complutense de Madrid
Abstract
El receptor de rapamicina (del inglés, Mechanistic Target of Rapamycin) mTOR es una serina/treonina quinasa que constituye la subunidad catalítica de dos complejos diferentes tanto a nivel funcional como estructural: mTORC1 y mTORC2. El complejo mTORC1, además de la subunidad mTOR, está formado por las proteínas mLST8 y Raptor además de dos subunidades inhibitorias: las porteínas Deptor y PRAS40. Entre las principales funciones del complejo mTORC1 se encuentra la síntesis de proteínas, lípidos y nucleótidos, así como la inhibición de rutas catabólicas como la autofagia. De este modo, mTORC1 juega un papel importante en la regulación del balance entre el anabolismo y catabolismo en respuesta a condiciones ambientales. Por otro lado, el complejo mTORC2 también presenta, junto a mTOR, las subunidades proteícas mLST8, Rictor, mSIN1, Deptor y Protor. Mientras que mTORC1 regula el crecimiento celular y el metabolismo, mTORC2 controla la proliferación y supervivencia celular mediante la fosforilación y activación de las proteínas Akt, PKC y SGK1. Entre las funciones del complejo mTORC2 se encuentra la regulación de la apotosis, la reorganización del citoesqueleto así como de la síntesis de proteínas dependiente del complejo mTORC1...
The rapamycin receptor (Mechanistic Target of rapamycin) mTOR is a serine / threonine kinase that forms the catalytic subunit of two structural and functional different complexes: mTORC1 and mTORC2. The mTORC1 complex, in addition to the mTOR subunit, consists of mLST8, Raptor proteíns and two inhibitory subunits: Deptor and PRAS40 proteins. Among the main functions of the mTORC1 complex are the synthesis of proteins, lipids and nucleotides, together with the inhibition of catabolic pathways such as autophagy. Therefore, mTORC1 plays an important role in regulation the equilibrium between anabolism and catabolism in response to environmental conditions. Instead, the mTORC2 complex also contains, in addition to mTOR, the protein subunits mLST8, Rictor, mSIN1, Deptor and Protor. While mTORC1 regulates cell growth and metabolism, mTORC2 controls cell proliferation and survival by phosphorylation and activation of Akt, PKC and SGK1 substrates. Amongst the functions of the mTORC2 complex are the regulation of apoptosis and the reorganization of the cytoskeleton as well as the protein synthesis dependent on the mTORC1 complex...
Description
Tesis inédita de la Universidad Complutense de Madrid, Facultad de Ciencias Biológicas, Departamento de Bioquímica y Biología Molecular, leída el 21/11/2019
Collections