Publication:
¿Denegados, apáticos, desencantados, neo-políticos, institucionalistas o vanguardistas?: la diversidad de las representaciones juveniles acerca de la política, la democracia y la participación política en el Chile contemporáneo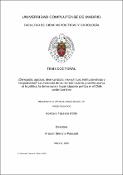 Files
Authors
Advisors (or tutors)
Editors
Publisher
Universidad Complutense de Madrid
Abstract
La multiplicación de espacios y formas participativas juveniles ha llevado a que las interpretaciones respecto a la realidad política juvenil chilena que habían dominado desde el retorno a la democracia –a inicios de los años '90-, y que identificaban a la mayoría de los/as jóvenes con el individualismo y el apoliticismo, aparezcan a estas alturas como demasiado simplistas y lejanas a los hechos que hemos presenciado en los últimos años, abriendo un campo de estudio, en el cual es posible aportar nuevas miradas que ahonden en las tensiones, complejidades y múltiples aristas que tiene la relación de los jóvenes con la política y el sistema democrático. Es en este contexto que se planteó este trabajo de tesis doctoral, con la idea de generar, por medio de la investigación empírica, una contribución a la mejor comprensión de las subjetividades políticas juveniles, desde una perspectiva que considera a la juventud como un segmento heterogéneo socialmente, y que posee representaciones políticas diversas. La perspectiva desde la cual se ha situado esta investigación se ha caracterizado por su comprensión de la juventud como un sector social diferenciado, heterogéneo, con potencialidad de transformación, y con juicio y una opinión relevante, tanto para la construcción del futuro, como también para la determinación del presente; y cuyo estudio nos puede aportar claves importantes para la comprensión más profunda de la sociedad en su conjunto, en este caso y de forma particular, de la sociedad chilena...
The multiplication of spaces and forms of youth participation, has led the interpretations regarding the political reality of the Chilean youth that has dominated since the return to democracy - in the early ' 90s - and identified most of young people with individualism and the apoliticism, appear now as too simplistic and far from the facts that have been witnessed in recent years. This, opens a field of study in which it is possible to provide new perspectives that go deeper into the tensions, complexities and multiple edges of the relationship between young people with politics and with the democratic system. It's in this context that this thesis work arose, with the idea of generating, through empirical research, a contribution to the better understanding of the youth political subjectivities, from a perspective that considers youth as a socially heterogeneous segment, and that has different political representations. The perspective in which this research has been placed, characterizes itself by the understanding of youth as a distinct and heterogeneous social sector, with transformation potential, and with judgment and relevant opinions, both for the construction of the future, as well as for the determination of the present; and whose study can provide important clues to the deeper understanding of society as a whole, and in particular, of Chilean society...
Description
Tesis inédita de la Universidad Complutense de Madrid, Facultad de Ciencias Políticas y Sociología, leída el 03-12-2015
Collections