Publication:
Individualización y religión en la Europa católica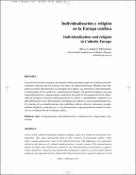 Authors
Advisors (or tutors)
Editors
Publisher
Federación Española de Sociología
Abstract
Una parte de los países europeos de mayoría católica presentan signos de secularización relativamente avanzada, que los acercan a los países de cultura protestante. Mientras otros permanecen mucho más próximos a la jerarquía de la Iglesia. Las diferencias están íntimamente relacionadas con los grados de «modernización cultural». En particular adquiere una gran capacidad predictiva y aparentemente explicativa del grado de descomposición de la religiosidad de la Iglesia el nivel de interiorización de los valores y sensibilidades vinculados a la individualización social. Precisamente la jerarquía de la Iglesia se muestra abiertamente hostil a muchas de sus manifestaciones más simbólicas (aborto, divorcio, relaciones sexuales, modelos familiares, eutanasia, etc.) y este desencuentro ocupa una posición central en el proceso de secularización de la Europa católica.
A part of the catholic European countries displays signs of a relatively advanced secularization. This signs approaches them to the countries of protestant culture, while others remain much more close to the Church hierarchy. The differences are intimately related to the degrees of «cultural modernization» in each country. The internalization degree of values and sensitivities related to the individualizing social process acquires a great predictive capacity (and apparently explanatory capacity as well) of the Church religiosity decomposition level. Indeed the Church hierarchy is openly hostile to a lot of its symbolic manifestations (abortion, divorce, sexual relations, familiar models, euthanasia, etc). This disagreement takes a central role in the secularizing process of the catholic Europe.
Collections