Publication:
El arte de la sangría y sus cuidados en la enfermería española del siglo XVIII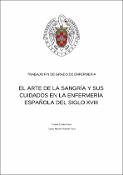 Authors
Advisors (or tutors)
Editors
Abstract
En un contexto de disputas bélicas y epidemias, fue primordial la figura de los sangradores y enfermeros Obregones, quienes adquirieron su conocimiento en los Reales Hospitales General y de la Pasión de Madrid, así como en el Colegio de Cirugía San Carlos, donde aunaron los modernos descubrimientos con el saber de los autores antiguos griegos y latinos. La presente revisión bibliográfica pretende analizar, a través de fuentes escritas e iconográficas, la aplicación de la sangría y otras técnicas alternativas, como es la terapia con sanguijuelas, por parte del sangrador; así como los cuidados otorgados por los enfermeros de la Congregación de Bernardino de Obregón a los pacientes que lo requiriesen. Por ello, realizaremos un exhaustivo análisis de los tratados con fines didácticos más influyentes del siglo XVIII español, compilados principalmente en la Biblioteca Histórica Marqués de Valdecilla de la Universidad Complutense de Madrid y en la Biblioteca Nacional de España. Todo ello evidencia que el legado de estos tratados forma parte de la historia de la profesión de Enfermería en el siglo XXI, ya que la aplicación clínica de la flebotomía se realiza como intervención enfermera en los diferentes niveles de atención sanitaria española.
In a context of warlike disputes and epidemics, it was basic the figure of the bleeders and Obregones nurses, who acquired his knowledge in the Royal Hospitals General and of the Passion of Madrid, as well as in the College of Surgery San Carlos, where they united the modern discoveries with to know of the ancient Greek and Latin authors. The present bibliographical review tries to analyze, across written and iconographic sources, the bleeding's application and other alternative technical, since it is the therapy with leeches, on the part of the bleeder; as well as the care granted by the nurses of Bernardino de Obregon's Congregation to the patients who needed them. For it, we will realize an exhaustive analysis of the agreements with more influential didactic ends of the Spanish 18th century, compiled principally in the Historical Library Marquess of Valdecilla of the Complutense University of Madrid and in the National Library of Spain. All this demonstrates that the legacy of these agreements forms a part of the history of the Nursing profession in the 21st century, since the clinical application of the phlebotomy carries out as nursing intervention in the different levels of sanitary attention.
UCM subjects
Historia de la medicina
,
Enfermería
,
Historia moderna
Unesco subjects
5506.17 Historia de la Medicina
,
32 Ciencias Médicas
,
5504.04 Historia Moderna