Publication:
Relaciones monetarias entre Castilla y Génova durante el reinado de Carlos II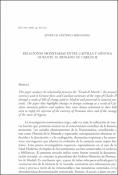 Authors
Advisors (or tutors)
Editors
Publisher
Società Numismatica Italiana
Abstract
Este artículo analiza la relación entre el Escudo de marca, la moneda de cuenta utilizada en las ferias genovesas, y las monedas castellanas del reinado de Carlos II, a través del estudio de las letras de cambio pagadas en Madrid y conservadas en el los protocolos notariales.[ABSTRACT]This paper analyses the relationship between the "Escudi di Marche': the account currency used in Genoeseftirs, and Castilian currencies of the reign of Charles II through a study of bills of change paid in Madrid and preserved in notarial protocols. The paper thus highlights changes in foreign exchange as a result of Castilian monetary policies and explains how some clauses contained in these bills seem to imply the rejection of the currency of Peruvian silver and of the coinage of the mint of Segovia.
Collections