Publication:
Construcción de nichos temporales : hacia una representación sinecológica de la teoría evolutiva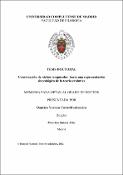 Files
Advisors (or tutors)
Editors
Publisher
Universidad Complutense de Madrid
Abstract
En la presente investigación se definen los nichos temporales de acuerdo con la hipótesis de su producción biológica (Hipótesis de la Construcción de Nichos Temporales). El concepto de nicho temporal permite entender la dinámica de las comunidades biológicas. Los nichos temporales contribuyen evolutivamente a la coexistencia, la producción y el mantenimiento de la diversidad de los organismos (Venail et al. 2011; Tanet al. 2013; Maia-Carneiro & Rocha 2021). Así, el concepto de nicho temporal es fundamental para describir, entender e integrar procesos filogenéticos, ontogenéticos y sinecológicos. Se propone que para utilizar correctamente el potencial teórico del concepto de nicho temporal, así como para entender el proceso evolutivo de su construcción es necesario atender a las relaciones funcionales (simbióticas) y temporales (fenológicas) que se actualizan y convergen en el ámbito de las comunidades biológicas (sinecología). Para ello la "representación estándar" de la evolución resulta insuficiente y puede llevar a cometer errores de fundamentación de los procesos más relevantes. Debe sustituirse, en consecuencia, por una representación más amplia. Llamaré a esta nueva representación evolutiva "Representación Sinecológica". Defiendo que para consolidar la representación sinecológica es necesario revisar conceptos filosóficos fundamentales en biología como continuidad, persistencia, causalidad, identidad y semejanza biológica considerando los aportes teóricos más relevantes de la biología evolutiva posterior a la Nueva Síntesis. El resultado es una representación evolutiva que se centra en los procesos de cooperación, coordinación y sincronización desplegados por las comunidades biológicas. Desde esta perspectiva más holista y global, los organismos estructuran el dinamismo ecológico y evolutivo mediante la construcción de sus entornos sinecológicos, modificando no solo relaciones fisicoquímicas, como fundamentalmente sucede en el marco tradicional de la teoría de construcción de nichos (TNC); si no, ante todo, modificando relaciones simbióticas y fenológicas. En definitiva, la propuesta aquí desarrollada describe una dinámica evolutiva más amplia de la que se considera habitualmente, con tres atributos fundamentales: sinecológica, simbiótica y fenológica.
In the present research, temporary niches are defined according to the hypothesis of their biological production (Temporary Niche Construction Hypothesis). The concept of temporal niche allows us to understand the dynamics of biological communities. Temporal niches contribute evolutionarily to the coexistence, production, and maintenance of organismal diversity. Thus, the concept of temporal niche is fundamental to describe, understand and integrate phylogenetic, ontogenetic and synecological processes. To correctly use the theoretical potential of the temporal niche concept, as well as to understand the evolutionary process of its construction, I suggest it is necessary to attend to the functional (symbiotic) and temporal (phenological) relationships that are actualized and converge at the level of biological communities (synecology). For this purpose, the "standard representation" of evolution is insufficient and can lead to errors in the substantiation of the most relevant processes. It must therefore be replaced by a broader representation. I will call this new evolutionary representation "Synecological Representation". I argue that to consolidate the synecological representation it is necessary to revise fundamental philosophical concepts in biology such as continuity, persistence, causality, identity, and biological similarity considering the most relevant theoretical contributions of evolutionary biology after the New Synthesis. The result is an evolutionary representation that focuses on the processes of cooperation, coordination and synchronization deployed by biological communities. From this more holistic and global perspective, organisms structure their ecological and evolutionary dynamics through the construction of their synecological environments, modifying not only physicochemical relationships, as fundamentally happens in the traditional framework of the theory of niche construction (TNC); but, above all, modifying symbiotic and phenological relationships. In short, the proposal developed here describes a broader evolutionary dynamic than is usually considered, with three fundamental attributes: synecological, symbiotic and phenological.
Description
Tesis inédita de la Universidad Complutense de Madrid, Facultad de Filosofía, leída el 25-04-2022
Collections