Publication:
Understanding the expansion of circular markets: Building relational legitimacy to overcome the stigma of second-hand clothing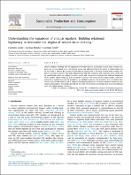 Advisors (or tutors)
Editors
Abstract
Despite evidence showing that the expansion of circular markets, particularly second-hand clothing markets, may be constrained by so-called green stigma, our understanding of the extent to which stigma can be decreased is limited. By focusing on the cultural construction of the mass second-hand clothing market in a European country, this study demonstrated that the emotional and validation work carried out by institutional actors—i.e., players (vendors), media and consumers—constructs the relational legitimacy of the market, which eventually leads to market expansion. The results of this study provide a novel explanation of market expansion by unveiling a key mediating process: the formation of a new habitus that, in turn, sustains the construction of relational legitimacy judgements of circular business models by overcoming green stigma. The results also inform the study of transitions by showing that micro-foundational work can explain market expansion.
Description
CRUE-CSIC (Acuerdos Transformativos 2021)
Collections