Publication:
Factores que determinan el éxito académico de los estudiantes en las áreas de ciencia, tecnología, ingeniería y matemáticas (STEM)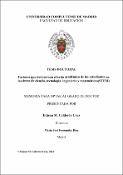 Files
Authors
Advisors (or tutors)
Editors
Publisher
Universidad Complutense de Madrid
Abstract
Promover la alfabetización en STEM facilita el desarrollo de competencias y destrezas necesarias que fomentan una participación de los cuidamos. Sin embargo, diversas barreras limitan el acceso a una educación en STEM necesarias para el en Siglo XXI, en especial pertenecer a un grupo étnicos y raciales minoritario y ser mujer. A fin de aminorar la brecha existente, los gobiernos han creado iniciativas como los programas que ofrecen experiencias de investigación con el fin de exponerlos a una experiencia autentica de aprendizaje donde, de la mano de un profesor o mentor, se espera que el estudiante adquiera conocimientos y destrezas necesarias para desarrollar prácticas y saberes, a la vez que se integra a la comunidad científica y se promueve su retención en diversos campos de STEM. Pese a que literatura apoya la creación e inversión en programas que promueven experiencias de investigación en los grupos pocos representados, los estudios que presentan evidencias empíricas que analizan los beneficios y factores que promueven el éxito académico y profesional de que estudiantes hispanos en STEM, luego de participar de estas experiencias, ha sido poco estudiado. De acuerdo con lo expuesto, el propósito general de la presente investigación doctoral se encausó hacia la identificación de aquellos factores que facilitan que estudiantes hispanos continúen sus estudios y tengan éxito en carreras en STEM, valiéndonos de una metodología mixta. Concretamente, se incorporó un diseño de tipo exploratorio secuencial, para el cual se integró el modelo de desarrollo de instrumentos mediante la implementación de fases de investigación, una primera fase de carácter cualitativa seguida de una segunda fase de corte cuantitativa...
STEM literacy fosters the development of competencies and skills needed to enhance citizens' active participation. However, barriers associated with ethnicity, racial group, and gender limit equal access to STEM education required for the XXI Century. To reduce educational disparities and "patched the STEM pipeline," governments have developed different initiatives to support underrepresented students with educational interventions and research training programs. Research training programs offer students an authentic educational experience that enables them to learn STEM disciplinary knowledge and skills while working under the mentorship, thus fostering the integration of the student to the scientific community and promoting their retentionin different STEM fields. Even though the literature supports the creation and funding of research programs in underrepresented students, the empirical studies that support students' gains andanalyze the factors that promote Hispanic students' academic and professional success in STEM are scarce. Within this context, using mixed-method research, the general objective of the following dissertation was to identify factors that facilitate Hispanic students' persistence and success in STEM careers. Specifically, we integrated an exploratory sequential design following the instrument development model that recommends the implementation of two strands; the first one incorporated a qualitative approach followed by a quantitative phase. During the qualitative phase of the study, we interviewed five faculty members that direct research programs. Seven factors emerged from the content analysis and were used to develop a questionnaire. We evaluated the instrument psychometric properties with an expert panel and an exploratory and confirmatory factor analysis during the quantitative phase...
Description
Tesis inédita de la Universidad Complutense de Madrid, Facultad de Educación, leída el 23-03-2022
Collections