Publication:
FTIR spectroscopic study of palygorskite: Influence of the composition of the octahedral sheet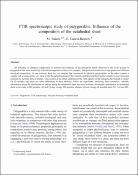 Advisors (or tutors)
Editors
Abstract
The influence of chemical composition to position and intensity of the absorption bands observed in the FTIR spectra of palygorskite has been studied by a detailed comparative study of six samples. Palygorskites studied have high purity and different chemical composition. At one extreme, there are two samples that correspond to Mg-rich palygorskites, at the other extreme a sample with a composition very close to the theoretical formula of this mineral, and there are three further samples whose structural formulae lie between these extremes. The position of the bands identified in the FTIR spectra of the palygorskites studied is similar for all samples, but there are some differences in their intensity, which are significant. Analysing these intensities, valuable information about the distribution of cations along the octahedral sheet has been obtained. Isomorphic substitution in octahedral sheet occurs only in M2 position. Al, and Fe may occupy M2 position whereas Mg can occupy all possible sites: M1, M2 and M3.
Collections