Publication:
Instrumento de planificación para la toma de imágenes satelitales a través de Matlab y Google Earth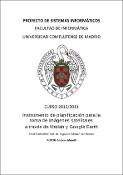 Authors
Advisors (or tutors)
Editors
Abstract
Este proyecto desarrolla una representación 3 en alto grado de detalle de la planificación de toma de imágenes por satélite. El proyecto está desarrollado sobre Matab ® y utiliza como herramienta de representación 3D Google Earth ® para la representación en alto grado de detalle. Este proyecto da un acabado gráfico a un optimizador de la planificación orbital, que es otro proyecto de Ingeniería Electrónica de la Universidad Complutense de Madrid. [ABSTRACT] This Project develops a high detail 3D representation of satellite image capture planning. The project is developed using Matlab ® as main API. Google Earth ® API is used for a 3D representation with high detail degree. This project is connected with an orbital planning optimizer, developed as other project of the Electronic Engineering of the Complutense University of Madrid.
Description
Proyecto de Sistemas Informáticos (Facultad de Informática, Curso 2010-2011)
Collections