Publication:
Aplicación del estudio de reimanaciones a la datación de las brechas de la base del Jurásico en la Cordillera Ibérica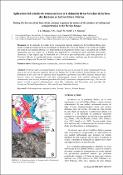 Files
Advisors (or tutors)
Editors
Publisher
Sociedad Geológica de España.
Abstract
Se ha utilizado el estudio de la reimanación regional cretácica de la Cordillera Ibérica para acotar la edad de formación de un afloramiento de brechas de la base del Jurásico (Fm. Cortes de Tajuña) del norte de la Cordillera Ibérica. Los experimentos de magnetismo de las rocas y el análisis de la NRM demuestran que los cantos de la brecha han registrado la reimanación pero muestran direcciones aleatorias, lo que implica que la formación de la brecha es post-reimanación y por tanto posterior al Cretácico Inferior. La polaridad inversa registrada por la matriz confirma que la brechificación es posterior al Supercrón Normal del Cretácico, es decir post-Santoniense.
From the study of remagnetization of Cretaceous age in an outcrop of the widespread breccia unit of the Lower Jurassic sequence (Cortes de Tajuña Fm.) in the northern Iberian Range, the age of formation of this unit can be inferred. Rock magnetism experiments and NRM analyses indicate that breccia clasts are remagnetized and show paleomagnetic vectors with random orientation, what demonstrates that breccia formation post-dates the Early Cretaceous remagnetization stage. The breccia matrix records a reverse paleomagnetic vector thus confirming that brecciation must post-date the Cretaceous Normal Superchron (i.e. they must be post-Santonian in age).
Collections