Publication:
El departamento de Mediación Artística en los espacios expositivos, culturales y artísticos dentro del ámbito universitario. Caso de estudio: CulturaLAB, Universidad Miguel Hernández de Elche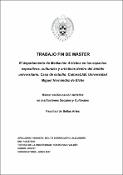 Authors
Advisors (or tutors)
Editors
Abstract
La Universidad puede ser entendida desde diversas perspectivas. Desde las vertientes que abogan por un modelo enfocado a la producción de futuros trabajadores hasta aquellas que defienden un modelo más orientado a la pura generación de pensamiento son muchas las variables existentes. No obstante, en cualquiera de estos extremos, y a lo largo de cualquier posibilidad, la Educación Artística debe reclamar el lugar que le corresponde dentro de los modelos de Enseñanza Superior. Protagonismo que, por todo cuanto supone, merece, como mínimo, ser planteado de cara a justificar la creación de departamentos de Mediación Artística visibles y reconocidos en esta institución. Por ello, esta investigación analiza la pertinencia de un departamento de Mediación Artística en el contexto universitario como generador y/o catalizador de la creación de pensamiento crítico, conocimiento autónomo, reflexión y transformación social a través de la Educación Artística, así como, de su función como nexo de unión entre la Institución, en este caso la Universidad, y la Sociedad en la que se enmarca. A través del caso de estudio de CulturaLAB, unidad definida en sí misma como Laboratorio de Cultura y Mediación Artística de la Universidad Miguel Hernández de Elche, se pretende visibilizar un ejemplo concreto de Educación Artística que desarrolla su actividad en base a criterios de horizontalidad pedagógica, participación activa y propuestas de creación y debate en torno y a través del arte dentro de un espacio expositivo universitario.
Higher Education can be understood from diverse perspectives. From those advocating a model focused on the production of future workers, to those which defend an orientation towards the pure generation of thought, there are many variables. However, in either of these extremes, and any other possibilities, Arts Education must claim its place within Higher Education models. A role that, for all its significance, deserves, at least, to be put forward when justifying the creation of visible and recognized Departments of Artistic Mediation in universities. Therefore, this research analyzes the relevance of a Department of Artistic Mediation in the University context as a generator and / or catalyst for the creation of critical thinking, autonomous knowledge, reflection and social transformation through artistic education, as well as its function as a link between the Institution (in this case, the University), and the society in which it is situated. Through the case study on CulturaLAB, a unit defining itself as Laboratory of Culture and Artistic Mediation at the Universidad Miguel Hernández in Elche, the intention is to see a concrete example of Artistic Education that acts on the basis of horizontal pedagogical criteria, active participation and proposals for creation and debate around, and through, art within an exhibition space at the University.
Description
Este trabajo fue presentado en la convocatoria de junio del curso 2016-17 y obtuvo una calificación de Matrícula de Honor.