Publication:
La geología en la conservación del patrimonio arquitectónico: otra forma de difundir el patrimonio geológico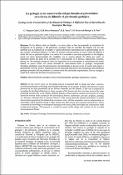 Advisors (or tutors)
Editors
Publisher
Sociedad Geológica de España.
Abstract
En los últimos años, en España y en otros países se han incrementado las propuestas de divulgación de la geología y del patrimonio geológico entre la sociedad. En España, esto ha sido facilitado por la existencia de un amplio y variado patrimonio representado por la geodiversidad con la que cuentan la Península Ibérica y las Islas. El presente artículo muestra un nuevo medio de difusión a través del cual se pretende implicar a un sector de la sociedad al que otras propuestas no han llegado, quizás por cierto distanciamiento del ciudadano con el entorno natural. Es sabido que existe un importante interés por pa1ie de la sociedad en el conocimiento de la historia, arquitectura, escultura, pintura, etc. Sin embargo, aunque sí existe una inquietud por un acercamiento y conocimiento del medio natural, no parece existir esta misma demanda de conocimientos hacia la geología, exceptuando disciplinas geológicas como la paleontología o la mineralogía, en las que existe un interés más amplio y generalizado. Por este motivo, la propuesta que se hace trata de promover el conocimiento del patrimonio geológico partiendo del conocimiento y la conservación del patrimonio arquitectónico. Esto se consigue a través de la realización de Rutas Geomonumentales.
In the recent years, an increasing interest is detected both in Spain and other contries, towards dissemination of Geology and Geological Heritage in the society. In Spain, this has been clearly favo ured by the high geodiversity of the Iberian Peninsula and the Islands. A new way is proposed to spreading the Geological Heritage in these segments of the Society who have not been altracted by other proposals, perhaps due to the existing distance between citizens and the natural environment. It is long known the interest of the society for the knowledge of history architecture, and art; sculpture, painting, etc. However, althongh there is a general interest in the society about the natural environment, a similar interest about geological disciplines does not seem to exist, with few exceptions, such as palaeontology or mineralogy, which usually provoke a wider interest. For this reason, the proposal presented here, strives to promote the knowledge on Geological Heritage of the basis of the knowledge and consenvation of the architectural heritage. This purpose is reached by means of the design and creation of the so-called Geomonumental Routes.
Collections