Publication:
El descubrimiento e invención de los mochicas, una cultura arqueológica de la costa norte del Perú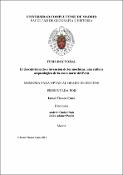 Files
Authors
Advisors (or tutors)
Editors
Publisher
Universidad Complutense de Madrid
Abstract
Tras más de un siglo de investigaciones arqueológicas, en la actualidad no se ha alcanzado un consenso entre los especialistas respecto a la naturaleza de la organización política de Moche. Pese a los matices, existen tres modelos generales de Moche diferentes: 1) un solo Estado Moche expansionista; 2) un Estado territorial Moche en el sur y diversas entidades políticas regionales en el norte; 3) entidades políticas independientes o ciudades-Estado a lo largo de los valles de toda la costa norte. A partir de las evidencias empíricas disponibles es imposible decantarse por alguno de estos modelos, y más cuando la orientación de los proyectos arqueológicos en activo tiende a concentrarse en la investigación desde una perspectiva regional. Por ello, en la últimadécada esta problemática ha pasado a un plano secundario. No obstante, en lo que prácticamente todos los especialistas están de acuerdo es en el reconocimiento de Moche como el primer Estado en América del Sur. Y este planteamiento teórico no es nuevo, sino que fue expuesto en la década de los cuarenta y es producto de la conceptualización de Moche como cultura arqueológica, es decir, como una entidad étnica, social y política particular..
After more than a century of archaeological investigations, today archaeologists have not reached consensus regarding the nature of the political organization of the Moche. In spite of the existence of a diverse array of proposals to explain this phenomenon, there are three different models that prevail: 1) one singular expansionist Moche State; 2) One territorial Moche State in the South and a variety of regional political entities in the North; 3) independent political units or city-states along all the valleys in the North Coast of Peru. If we start reviewing all the empirical evidence available, it is very complicated to decide which one to follow moreover knowing that the archaeological investigations tend to emphasize always a singular regional approach. Due to this unclear panorama these debates have moved not been given the required attention. Nevertheless, there is a concept that all Moche specialists agree upon and it is the acknowledgement that Moche is the first State in South America. This last proposal is not new, it was already expressed in the 40's and it is considered a product of the conceptualization of Moche as an archaeological culture as well as an ethnic social and political entity...
Description
Tesis inédita de la Universidad Complutense de Madrid, Facultad de Geografía e Historia, leída el 27-01-21
Collections