Publication:
Propuesta de documentación y puesta en valor de la obra del pintor figurativo Ernesto Goday Caamaño: la planificación de una exposición temporal antológica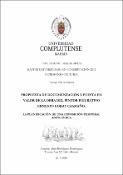 Authors
Advisors (or tutors)
Editors
Abstract
Durante los años 2018 y 2019, la Concejalía de Cultura del Ayuntamiento de O Grove (Pontevedra) acoge una de las más importantes actuaciones en materia de recuperación del patrimonio artístico de la localidad. Se trata del desarrollo de una convocatoria trimestral destinada a la localización y puesta en valor de la obra pictórica de Ernesto Goday Caamaño. El descubrimiento de una dilatada producción plástica inexplorada, desconectada de su contexto, dispuso el compromiso personal de rescatar su legado del olvido y desconocimiento. El presente estudio ofrece el proceso de recuperación y puesta en valor de un legado inexplorado, desde la documentación, el registro y difusión de la obra pictórica y del archivo personal de Ernesto Goday. Reúne y aporta la documentación precisa para conservar no solo el estado físico, también para la comprensión de su significado y el vínculo inherente de éste con la comunidad que lo ha creado. La obra de Goday es testigo de su época y a su vez es memoria, transmitirla a las generaciones futuras supondrá el reconocimiento de su evolución cultural desde la mirada individual que representa el testimonio colectivo.
During the years 2018 and 2019, the Department of Culture of the Municipality of O Grove (Pontevedra) hosts one of the most important recoveries of local artistic heritage. It involves the development of a quarterly convening designed for the location and valuing the pictorial works of Ernesto Goday Caamaño. The discovery of Goday's extensive unexplored plastic production, disconnected from its context, incited a personal commitment to rescue his legacy from being disregarded and forgotten. The present study offers a process of recovery and enhancement of an unexplored legacy through documentation, registration and dissemination of the pictorial work and personal archive of Ernesto Goday. It gathers and provides the necessary records to not only preserve the physical state of Goday's work, but also to understand its meaning and its relationship to the community in which it was created. Goday's work is rooted in its time and, at the same time, serves as a part of this time's memory. Transmitting this work to future generations means recognizing Goday's cultural evolution from an individual perspective represented by collective testimony.