Publication:
Estudio de rasgos dentarios no métricos en población española contemporánea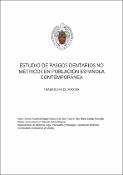 Advisors (or tutors)
Editors
Abstract
En la evolución del hombre, desde los ancestros más antiguos como fue Ardipithecus ramidus, hasta hoy en día con el Homo sapiens, los análisis antropométricos no solo han englobado restos óseos, sino que la morfología dentaria ha tenido un gran aporte de datos, los cuales han ayudado a entender de manera más efectiva el proceso evolutivo del ser humano para con sus relaciones filogenéticas, que se han ido produciendo a lo largo de estos años.Objetivo: Estudiar los rasgos dentarios no métricos en población española contemporánea. Material y métodos: La colección estudiada se encuentra formada por unos 300 individuos adultos procedentes de diversos cementerios de la Comunidad Autónoma de Madrid, de la época contemporánea y tronco ancestral caucásico, conservados en la Escuela de Medicina Legal de Madrid. La muestra seleccionada se compone de 40 individuos adultos, los cuales fueron seleccionados a partir de los criterios de inclusión y exclusión del estudio. La metodología utilizada ha sido la metodología ASUDAS (Arizona State University Dental Anthropological System).Resultados: Se han obtenido resultados para 18 variables de rasgos métricos discretos, de los cuales se han valorado las frecuencias con las que aparecen y determinado las correlaciones para el patrón dental de la muestra según el perfil ancestral caucásico.Discusión: Hemos comparado los resultados de nuestro estudio, con los de estudios similares según la bibliografía disponible. Los estudios de Moreno (2001), Sívoli (2009) y Lunini (2019) establecen perfiles de rasgos dentarios no métricos para poblaciones caucásicas españolas y de la zona mediterránea. Los hallazgos encontrados en estos estudios coinciden, en general con los resultados de nuestra muestra, enmarcándose en el patrón de rasgos dentarios no métricos de las poblaciones caucásicas. Conclusión: El patrón de rasgos no métricos de población española contemporánea, según nuestra muestra, se ajusta, en general, al patrón de rasgos dentarios no métricos de las poblaciones caucásicas
In the evolution of man, from the most ancient ancestors such as Ardipithecus ramidus, to the present day with Homo sapiens, anthropometric analyses have not only encompassed bone remains, but dental morphology has had a great contribution of data, which have helped to understand more effectively the evolutionary process of human beings and their phylogenetic relationships, which have been occurring over the years. Objective: To study non-metric dental traits in a contemporary Spanish population.Material and methods: The studied collection is formed by 300 adult individuals from different cemeteries of the Autonomous Community of Madrid, from the contemporary period and Caucasian ancestral stock, preserved in the School of Legal Medicine of Madrid. The selected sample is composed of 40 adult individuals, which were selected on the basis of the inclusion and exclusion criteria of the study. The methodology used was the ASUDAS methodology (Arizona State University Dental Anthropological System).Results: Results were obtained for 18 discrete metric trait variables, of which the frequencies with which they appear were evaluated and the correlations were determined for the dental pattern of the sample according to the Caucasian ancestral profile.Discussion: We have compared the results of our study with those of similar studies according to the available literature. The studies by Moreno (2001), Sívoli (2009) and Lunini (2019) establish non-metric dental trait profiles for Caucasian populations in Spain and the Mediterranean area. The findings found in these studies coincide, in general with the results of our sample, framed in the pattern of non-metric dental traits of Caucasian populations. Conclusion: The pattern of non-metric features of the contemporary Spanish population, according to our sample, generally conforms to the pattern of non-metric dental features of Caucasian populations.
Citation
Reyes G, Bonomie J, Guevara E, Palacios M, Malgosa A, Chimenos E, et al. El sistema dental y su importancia en el estudio de la evolución humana: Revisión bibliográfica. Boletín antropológico. 2010;28(78):16-43. 2. del Sol M, Vásquez B, Cantín M. Características Morfológicas Métricas y No Métricas del Esternón del Individuo Mapuche. International Journal of Morphology. 2014;32(1):339-50. 3. Fernández García MG. Análisis morfométrico de una colección de cráneos del museo de antropología de la Escuela de Medicina Legal: Universidad Complutense de Madrid, Servicio de Publicaciones; 2004. 4. Moreno F, Moreno SM, Díaz CA, Bustos EA, JV. R. Prevalencia y variabilidad de ocho rasgos morfológicos dentales en jóvenes de tres colegios de Cali, 2002. Colombia Médica2004. p. 16-23. 5. Scott GR, II CGT, Townsend GC, Martino-Torres M. Dental Morphology and Population History. In: The Anthropology of Modern Human Teeth: Dental Morphology and its Variation in recent and Fossil Homo sapiens. Cambridge University Press: 2018. p. 253-95. 6. Scott GR, Pilloud MA, Navega D, d'Oliveira J, Cunha E, Irish JD. rASUDAS: A new web-based application for estimating ancestry from tooth morphology. Forensic Anthropology. 2018;1(1):18-31. 7. Scott G. Richard, Turner II Christy G, Townsend Grant C, María M-T. Dental Anthropology and Morphology. In: The Anthropology of Modern Human Teeth: Dental Morphology and its Variation in Recent and Fossil Homo sapiens. 2nd ed. Cambridge University Press2018. p. 1-12. 8. Türp J, Brace C, Alt K. Richard Owen and the comparative anatomy of teeth. Journal of the History of dentistry1997. p. 11-6. 9. WEISS KM, STOCK DW, ZHAO Z. Dynamic interactions and the evolutionary genetics of dental patterning. Critical Reviews in Oral Biology & Medicine1998. p. 36998. 10. Christy G. Turner I, Nichol. CR, Scott GR. Scoring procedures for key morphological traits of the permanent dentition: The Arizona State University dental anthropology system. Advances in Dental Anthropology1991. p. 13-31. 11. Pierangelo L, Remi. U. Frecuencia de rasgos dentales no métricos presentes en una muestra de población venezolana de origen italiano, residente en el estado de Mérida. Acta Bioclinica2019. 12. García Sívoli C. Estudio diacrónico de los rasgos dentales en poblaciones del Mediterráneo occidental Mallorca y Cataluña (tesis doctoral). Universitat Autonoma de Barcelona2009. 13. Bermúdez De Castro JM. Determinants of the dental variability in hominids. Coloquios de Paleontologia: Universidad Complutense de Madrid; 1995. p. 118-32. 14. Moreno JMG. Estudio antropológico de los caracteres discretos de la cavidad oral en población española contemporánea (tesis doctoral). Uiversidad de Alcalá2001.