Publication:
Estudio del papel inmunomodulador de los antipsicóticos atípicos Risperidona/Paliperidona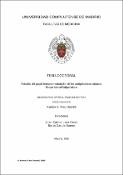 Files
Advisors (or tutors)
Editors
Publisher
Universidad Complutense de Madrid
Abstract
Las alteraciones en el sistema inmune innato y en la respuesta inflamatoria, ya sean causadas por factores endógenos o exógenos, han sido implicadas como un componente fundamental en la fisiopatología de las enfermedades psiquiátricas. Esto es de gran relevancia en la esquizofrenia, una enfermedad incurable de gran impacto socioeconómico que afecta al 1% de la población mundial, caracterizada por alteraciones en la neurotransmisión, cuyos tratamientos antipsicóticos sólo engloban parte de la sintomatología de la enfermedad, tienen importantes efectos adversos, y una gran proporción de los pacientes muestran resistencia al tratamiento y baja adherencia. Uno de los principales factores de riesgo ambiental de esta enfermedad es la exposición al estrés. El estrés es capaz de activar indirectamente, mediante el daño celular o la permisividad ante patógenos, uno de las principales agentes de la inmunidad innata, los receptores tipo Toll (TLR). TLR3 actúa principalmente como centinela frente a infecciones virales al reconocer las dobles hebras de RNA viral, en cambio, TLR4 detecta principalmente el LPS, un componente estructural de las paredes de bacterias Gram negativas. Además, ambos TLRs son capaces de detectar patrones moleculares asociados a daño (DAMPs). Los principales coordinadores de la respuesta celular inmune son las citoquinas, las cuales inducen una respuesta Th1, Th2 o Th reguladora, también son las encargadas de activar la microglía en reposo, y una vez más son las que orquestan la polarización M1 o M2 según las citoquinas presentes en el ambiente. Por otro lado, el daño celular y la acumulación de mediadores proinflamatorios oxidativo/nitrosativos activan vías antioxidantes como la del factor NRF2, que a su vez también incide en la regulación de la activación microglial. Otro factor que interviene en el proceso, y que se relaciona directamente con la enfermedad es el sistema endocannabinoide...
Alterations in the innate immune/inflammatory system, caused by endogenous or exogenous factors, have been proposed as key components in the pathophysiology of psychotic diseases. Schizophrenia is an incurable disease with great socioeconomic impact. Affects 1% of the world population, and it is characterized by alterations in neurotransmission. Antipsychotic treatments partially controls the symptomatology of the disease have significant side effects, and many patients show resistance to treatment and poor adherence. Stress exposure is a main environmental risk factor for psychiatric disease. The main agents of the innate immunity are the family of toll-like receptors (TLRs), which detect circulating pathogen-associated molecular patterns and endogenous damage-associated molecular patterns (DAMPS). TLR3 acts as sentinel against viral infection, recognizing viral RNA double strands. TLR-4 predominantly responds to lipopolysaccharide (LPS) from Gram-negative bacteria. Cytokines are the main coordinators of the cellular immune response; they can induce a Th1, Th2 or regulatory response. Cytokines are also responsible for activating the resting microglia, and orchestrate the polarization M1 or M2, depending the cytokines present in the environment. Furthermore, cell damage and accumulation of oxidative/nitrosative pro-inflammatory mediators activate antioxidant pathways such as NRF2-dependent, which also affects microglial activation. Another factor in the process, directly related to the disease is the endocannabinoid system...
Description
Tesis inédita de la Universidad Complutense de Madrid, Facultad de Medicina, Departamento de Farmacología, leída el 26/10/2015
Collections