Publication:
Bio-inspired hierarchical organization of electroactive supramolecular architectures based on carbon nanoestructures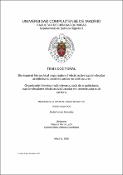 Files
Authors
Advisors (or tutors)
Editors
Publisher
Universidad Complutense de Madrid
Abstract
La nanotecnología, referida a la manipulación de la materia a nivel molecular y supramolecular, es un área emergente con prometedores beneficios para la humanidad.1 En particular, las nanoestructuras de carbono han captado gran atención debido a sus atractivas propiedades electrónicas y mecánicas. Imitar la naturaleza mediante el desarrollo de procedimientos bioinspirados puede ser una interesante estrategia para organizar nanomateriales ricos en carbono con el fin de maximizar sus propiedades optoelectrónicas...
Nanotechnology, referring as the manipulation of matter at the molecular and supramolecular scale, is an emerging area with promising benefits for humanity.1 In particular, carbon nanostructures have received a great attention due to their exciting electronic and mechanical properties. Mimicking nature, that is, developing bioinspired procedures, could be one of the most intelligent strategies to organize matter, in particular carbon-rich nanostructures, with the aim of maximizing their fabulous optoelectronic properties...
Description
Tesis inédita de la Universidad Complutense de Madrid, Facultad de Ciencias Químicas, Departamento de Química Orgánica I, leída el 04-12-2015
Collections