Publication:
New strategies for the design and development of protein antimicrobials based on phage products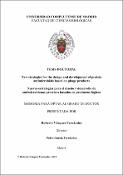 Files
Authors
Advisors (or tutors)
Editors
Publisher
Universidad Complutense de Madrid
Abstract
Nowadays, antibiotic resistance is one of the most urgent global health issues to be tackled. Among the infective bacteria, Gram-negative ones are the main causative agents of nosocomial infections, causing an important death burden, partly due to anti-microbial resistance. Currently, phage therapy research is experiencing a renaissance as a viable alternative or complement to common antimicrobial chemotherapy. Not only complete virion particles but also phage-derived products have a series of advantages over antibiotics. In particular, phage (endo)lysins are the phage-encoded proteins re-sponsible for bacterial host lysis and subsequent death due to their cell wall lytic activity. Lysins are being repurposed to be exogenously applied, in a purified form, against bac-teria, functioning as lytic antimicrobials, and thus are also called 'enzybiotics'. Among the many advantages of enzybiotics, we may cite their lower chance to provoke resistance in the target bacteria and their versatility to be screened and engineered using bioinfor-matic and biotechnological tools...
Hoy en día, la resistencia a antibióticos es uno de los problemas de salud mundial más urgentes que deben abordarse. Entre las bacterias infecciosas, las Gram-negativas son los principales agentes causantes de infecciones nosocomiales, provocando una importante mortalidad, en parte debido a la resistencia a antimicrobianos. Actualmente, la investigación en terapia fágica está experimentando un renacimiento, entendida como alternativa viable o complemento de la quimioterapia antimicrobiana común. No solo las partículas fágicas completas sino también los productos derivados de fagos tienen una serie de ventajas sobre los antibióticos. En particular, las (endo)lisinas fágicas son las proteínas codificadas por los fagos que son responsables de la lisis y muerte bacteriana debido a su actividad enzimática que hidroliza la pared celular. Las lisinas se están re-utilizando para aplicarlas exógenamente en forma purificada contra bacterias, funcio-nando como antimicrobianos líticos y, por ello, también se denominan "enzibióticos". Entre las muchas ventajas de los enzibióticos, podemos citar su menor probabilidad de provocar resistencias en las bacterias diana y su versatilidad para ser detectadas y di-señadas utilizando herramientas bioinformáticas y biotecnológicas...
Description
Tesis inédita de la Universidad Complutense de Madrid, Facultad de Ciencias Biológicas, Departamento de Bioquímica y Biología Molecular, leída el 02-07-2021
Collections