Publication:
Las manifestaciones del culto imperial en el ámbito privado del occidente romano altoimperial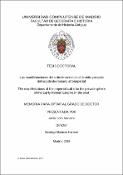 Files
Authors
Advisors (or tutors)
Editors
Publisher
Universidad Complutense de Madrid
Abstract
La figura del emperador romano ha resultado analizada en miles de formas y con cientos de matices. Dentro de los estudios que han tratado su desarrollo, el culto imperial ocupa un lugar privilegiado, ya que traspasa de manera trasversal diferentes niveles del estado romano. Dicho culto no corresponde únicamente a una realidad política de alabanzas, sino que afecta a la propia naturaleza del dirigente romano y, la misma se muestra a través de una serie de manifestaciones. Estas demostraciones cultuales hacia el emperador, tradicionalmente se han considerado desde una óptica pública, dejando la vertiente privada en un segundo plano. La intención del presente trabajo es analizar ese espacio privado, sus reglas, normas y conductas, en relación a la plasmación en el mismo del Princeps romano. De igual manera, se reflexiona sobre la adaptación del culto imperial, así como la evolución del emperador a través de dicho ambiente, donde se desarrolló mediante las divinidades domésticas y entidades de la esfera privada, para extender el poder imperial a todos los niveles del propio sistema, integrándose de manera profunda en las mentalidades de las poblaciones que constituyeron el Imperio. El regente se convirtió en el gran dominus/Pater Patriae de la gran domus/sociedad romana. Gracias a su desarrollo en el espacio privado el emperador logró llegar a lugares recónditos y hasta entonces imposibles para el poder gubernamental. Este proceso se inserta en una expansión paralela en la esfera pública, logrando intercalarse en niveles intermedios. Permitió al sistema imperial extender su cultura, poder y religión junto al emperador. De este modo, se articularon todos los territorios a distinta escala, buscando la ordenación social y política, que variará con cada pueblo, y al mismo tiempo se produjo una adecuación temporal, donde el Estado se estableció a un nivel vital respecto del emperador. Por tanto el Princeps se convirtió en el señor del tiempo y del espacio en el mundo romano. Para lograr el análisis interpretativo adecuado, se ha recurrido a la reflexión desde la hermeneútica, el empleo de la filología, el derecho romano, así como el uso de fuentes epigráficas, arqueológicas y el acercamiento a los autores clásicos, todo ello buscando el mejor discursos histórico posible, donde la transversalidad es fundamental...
The figure of the Roman Emperor has been discussed in thousands of ways and aspects. Among the studies that have dealt with his development, the Imperial Cult occupies a privileged place, trespassing transversely the different levels of the Roman State. He does not correspond only to a political reality of praises, but affects the inner nature of the roman leader that manifests itself articulated through a series of demonstrations. These cultural exhibitions towards the emperor have been traditionally considered expressed from a public point of view, leaving the private part aside. The goal of this work is analyzing the private space, its rules, norms and behaviours related to the expression of the roman Princeps in it. Similarly, we consider the adaptation of the imperial cult and the evolution of the emperor through this environment, where it evolved by means of the domestic deities and the private sphere entities to extend the imperial power through all the levels of the system. It integrates deeply into the mentalities of the settlements that defined the Empire. The leader became the great dominus / Pater Patriae of the big domus / roman society. Due to its progress in the private space, the imperial cult was able to reach remote places the government power could not access until then. This process is added to the public sphere concurrently, inserting itself into intermediate levels. The coordinated global cultural extension allowed for spreading the culture, power and religion of the imperial system, along with the Emperor himself. This way, all the territories were articulated at different scales, aiming for the social and political order that varies for every population. At the same time, a temporal adaptation happened, where the State depended vitally from the Emperor. Therefore, the Princeps become the master of the time and the space in the roman world...
Description
Tesis inédita de la Universidad Complutense de Madrid, Facultad de Geografía e Historia, Departamento de Historia Antigua, leída el 16-11-2017
Collections