Publication:
Biogeography of the Iberian newt (Lissotriton boscai): factors involved in interpopulation diversity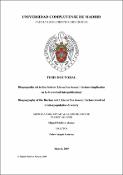 Files
Authors
Advisors (or tutors)
Editors
Publisher
Universidad Complutense de Madrid
Abstract
Understanding geographic variation in the characteristics of individuals and populations of species and/or closely related species is a long-standing research theme in biogeography and evolutionary biology. This endevour involves answering why species appear where they are; which are the factors driving species distributions; which is the relationship between the species and their environment; why closely related species or species populations share similar traits or environmental requirements; how species and species populations vary in space and time and which are the factors behind this heterogeneous response. Research on biogeographical variation involves recognizing and describing patterns and unveiling the processes behind them. This entails some challenges, mainly because these patterns may arise from a plethora of factors and mechanisms that may act together, simultaneously or separately, at different spatial and temporal scales. The best approach to address this is combining different sources of information at different spatio-temporal ecological and evolutionary scales with multiple hypotheses...
La comprensión de la variación geográfica de las características de los individuos y las poblaciones de las especies o de especies estrechamente emparentadas constituye un tema de estudio inveterado en biogeografía y biología evolutiva. Esta tarea supone responder a por qué las especies aparecen donde están; cuáles son los factores responsables de la distribución de las especies; cuál es la relación entre las especies y su entorno; por qué las especies o poblaciones de especies estrechamente emparentadas comparten rasgos o requisitos ambientales similares; cómo las especies y las poblaciones de las especies varían en el espacio y el tiempo y cuáles son los factores que explican esta respuesta heterogénea. La investigación sobre la variación biogeográfica implica el reconocimiento y la descripción de patrones y, a continuación, la dilucidación de los procesos subyacentes. Esto conlleva algunos retos, sobre todo porque dichos patrones pueden emerger como resultado de una plétora de factores y mecanismos que pueden actuar juntos, simultáneao independientemente, a diferentes escalas espaciales y temporales. El mejor enfoque para abordar esta cuestión consiste en combinar diferentes fuentes de información a diferentes escalas espacio-temporales, ecológicas y evolutivas con múltiples hipótesis...
Description
Tesis inédita de la Universidad Complutense de Madrid, Facultad de Ciencias Biológicas, leída el 13/09/2019
Collections