Publication:
Consecuencias neurológicas de la COVID-19 y la importancia de la neurorrehabilitación: revisión bibliográfica.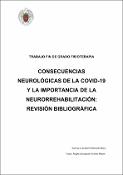 Authors
Advisors (or tutors)
Editors
Abstract
Introducción. La COVID-19 es una enfermedad causada por el SARS-CoV-2, siendo declarada pandemia en marzo de 2020. Aunque afecta principalmente al sistema respiratorio, tiene capacidad neuroinvasiva, por ello se quiere realizar una revisión bibliográfica para describir las principales manifestaciones neurológicas e investigar el papel de la neurorrehabilitación y la telerrehabilitación, indicando el papel del fisioterapeuta. Metodología. Se han realizado búsquedas en diferentes bases de datos de publicaciones a texto completo en inglés o español, empleando los términos "COVID-19", "neurological manifestations", "neurorehabilitation" y "neurorehabilitation future". Se obtuvieron 61 resultados procedentes de PubMed, Cochrane Library y el catálogo CISNE de la UCM. Tras eliminar duplicados y revisarlos quedaron los 35 trabajos empleados. Resultados. El 36,4% de los pacientes presentan complicaciones neurológicas siendo las más frecuentes la anosmia, ageusia, fatiga, cefalea, mialgia y ACV, aunque también hay casos de Guillain-Barré y encefalopatías, lo cual ha aumentado las necesidades de neurorrehabilitación. Discusión. A pesar de la importancia demostrada por la neurorrehabilitación, pocas publicaciones han analizado su impacto. Es llamativo que la alusión a la fisioterapia sea en relación con el tratamiento respiratorio y no al neurológico. Sería interesante investigar más en este ámbito y que se realizaran estudios de cohorte prospectiva. Conclusiones. Se evidencia que la COVID-19 tiene consecuencias neurológicas, lo cual junto a los pacientes que vieron interrumpidos o no iniciados sus tratamientos, hacen a la neurorrehabilitación prioritaria destacando la relevancia del fisioterapeuta en este ámbito y el implemento de la telerrehabiliatción para disminuir listas de espera y alargar los tratamientos consiguiendo mejores resultados.
Background. COVID-19 is a disease caused by the SARS-CoV-2 and it was declared a pandemic in March 2020. Although it mainly affects the respiratory system, it has neuroivasive capacity. For them, it has been done a bibliographic revision to describe the principal neurological manifestations and to investigate the role of the neurorehabilitation and telerehabilitation, as well as the role of the physiotherapist. Methods. It has been done a search of full text publications in English or Spanish in different data bases, using the terms "COVID-19", "neurological manifestations", "neurorehabilitation" y "neurorehabilitation future". There were obtained 61 results from PubMed, Cochrane Library and CISNE catalogue from UCM. After remove duplicates and check them, 35 publications remained. Results. 36.4% of patients have neurological complications being the most frequent anosmia, ageusia, fatigue, headache, myalgia and stroke, although there are cases of Guillain-Barré and encephalopathies, which has increases neurorehabilitation needs. Discussion. Despite the importance that neurorehabilitation has been shown, few publications have analysed its impact, and it is striking that the allusion to physiotherapy is in relation to the respiratory treatment and not to the neurological treatment, so it would be interesting to investigate more in this area and to carry out prospective cohort studies. Conclusion. It is evidenced that COVID-19 have neurological consequences, which together with the patients who had their treatments interrupted or not initiated, make neurorehabilitation a priority, highlighting the relevance of the physiotherapist in this area and the implement of telerehabilitation to decrease waiting lists and to lengthen treatments getting better results.
Citation
1. Barker-Davies RM, O'Sullivan O, Senaratne KPP, Baker P, Cranley M, Dharm-Datta S, et al. The Stanford Hall consensus statement for post-COVID-19 rehabilitation. Br J Sports Med. 1 de agosto de 2020;54(16):949-59. 2. Favas TT, Dev P, Chaurasia RN, Chakravarty K, Mishra R, Joshi D, et al. Neurological manifestations of COVID-19: a systematic review and meta-analysis of proportions. Neurol Sci [Internet]. 1 de diciembre de 2020 [citado 20 de diciembre de 2020];41(12):3437-70. Disponible en: /pmc/articles/PMC7577367/?report=abstract 3. Ghannam M, Alshaer Q, Al-Chalabi M, Zakarna L, Robertson J, Manousakis G. Neurological involvement of coronavirus disease 2019: a systematic review. J Neurol [Internet]. 19 de noviembre de 2020 [citado 20 de diciembre de 2020];267(11):3135-53. Disponible en: http://link.springer.com/10.1007/s00415-020-09990-2 4. Coraci D, Fusco A, Frizziero A, Giovannini S, Biscotti L, Padua L. Global approaches for global challenges: The possible support of rehabilitation in the management of COVID‐19. J Med Virol [Internet]. 8 de octubre de 2020 [citado 27 de enero de 2021];92(10):1739-40. Disponible en: https://onlinelibrary.wiley.com/doi/10.1002/jmv.25829 5. Carda S, Invernizzi M, Bavikatte G, Bensmaïl D, Bianchi F, Deltombe T, et al. The role of physical and rehabilitation medicine in the COVID-19 pandemic: the clinician's view. Ann Phys Rehabil Med. 1 de noviembre de 2020;63(6):554-6. 6. Juárez-Belaúnde A, Colomer Font C, Laxe S, Ríos-Lago M, Ferri Campos J. The future of neurorehabilitation after the SARS-CoV-2 pandemic. Vol. 35, Neurologia. Spanish Society of Neurology; 2020. p. 410-1. 7. Leocani L, Diserens K, Moccia M, Caltagirone C. Disability through COVID‐19 pandemic: neurorehabilitation cannot wait. Eur J Neurol [Internet]. 25 de septiembre de 2020 [citado 20 de diciembre de 2020];27(9):e50-1. Disponible en: https://onlinelibrary.wiley.com/doi/abs/10.1111/ene.14320 8. Msigwa SS, Wang Y, Li Y, Cheng X. The neurological insights of the emerging coronaviruses [Internet]. Vol. 78, Journal of Clinical Neuroscience. Churchill Livingstone; 2020 [citado 28 de diciembre de 2020]. p. 1-7. Disponible en: https://pubmed.ncbi.nlm.nih.gov/32563494/ 9. Coronavirus (COVID-19) - Google Noticias [Internet]. [citado 20 de febrero de 2021]. Disponible en: https://news.google.com/covid19/map?hl=es&mid=%2Fm%2F02j71 10. Yamamoto V, Bolanos JF, Fiallos J, Strand SE, Morris K, Shahrokhinia S, et al. COVID-19: Review of a 21st Century Pandemic from Etiology to Neuro-psychiatric Implications [Internet]. Vol. 77, Journal of Alzheimer's Disease. IOS Press BV; 2020 [citado 28 de diciembre de 2020]. p. 459-504. Disponible en: https://pubmed.ncbi.nlm.nih.gov/32925078/ 11. Ferrarese C, Silani V, Priori A, Galimberti S, Agostoni E, Monaco S, et al. An Italian multicenter retrospective-prospective observational study on neurological manifestations of COVID-19 (NEUROCOVID). Neurol Sci [Internet]. 1 de junio de 2020 [citado 20 de diciembre de 2020];41(6):1355-9. Disponible en: /pmc/articles/PMC7235538/?report=abstract 12. Hassanzadeh K, Perez Pena H, Dragotto J, Buccarello L, Iorio F, Pieraccini S, et al. Considerations around the SARS-CoV-2 Spike Protein with Particular Attention to COVID-19 Brain Infection and Neurological Symptoms. ACS Chem Neurosci [Internet]. 5 de agosto de 2020 [citado 20 de diciembre de 2020];11(15):2361-9. Disponible en: https://dx.doi.org/10.1021/acschemneuro.0c00373 13. Orrù G, Conversano C, Malloggi E, Francesconi F, Ciacchini R, Gemignani A. Neurological complications of covid-19 and possible neuroinvasion pathways: A systematic review [Internet]. Vol. 17, International Journal of Environmental Research and Public Health. MDPI AG; 2020 [citado 20 de diciembre de 2020]. p. 1-18. Disponible en: /pmc/articles/PMC7558767/?report=abstract 14. Munhoz RP, Pedroso JL, Nascimento FA, De Almeida SM, Barsottini OGP, Cardoso FEC, et al. Neurological complications in patients with SARS-CoV-2 infection: A systematic review. Arq Neuropsiquiatr [Internet]. 1 de mayo de 2020 [citado 20 de diciembre de 2020];78(5):290-300. Disponible en: https://doi.org/10.1590/0004-282X20200051 15. Mauri E, Abati E, Musumeci O, Rodolico C, D'Angelo MG, Mirabella M, et al. Estimating the impact of COVID-19 pandemic on services provided by Italian Neuromuscular Centers: an Italian Association of Myology survey of the acute phase. Acta Myol [Internet]. 1 de junio de 2020 [citado 28 de diciembre de 2020];39(2):57-66. Disponible en: https://pubmed.ncbi.nlm.nih.gov/32904925/ 16. Almqvist J, Granberg T, Tzortzakakis A, Klironomos S, Kollia E, Öhberg C, et al. Neurological manifestations of coronavirus infections – a systematic review [Internet]. Vol. 7, Annals of Clinical and Translational Neurology. Wiley-Blackwell; 2020 [citado 20 de diciembre de 2020]. p. 2057-71. Disponible en: /pmc/articles/PMC7461163/?report=abstract 17. Manifestaciones persistentes de la COVID-19. Guía práctica clínica - semFYC [Internet]. [citado 30 de marzo de 2021]. Disponible en: https://www.semfyc.es/formacion-y-recursos/manifestaciones-persistentes-de-la-covid-19-guia-de-practica-clinica/ 18. Fatima N, Saqqur M, Qamar F, Shaukat S, Shuaib A. Impact of COVID-19 on neurological manifestations: an overview of stroke presentation in pandemic. Neurol Sci [Internet]. 1 de octubre de 2020 [citado 20 de diciembre de 2020];41(10):2675-9. Disponible en: /pmc/articles/PMC7406873/?report=abstract 19. Sweid A, Hammoud B, Bekelis K, Missios S, Tjoumakaris SI, Gooch MR, et al. Cerebral ischemic and hemorrhagic complications of coronavirus disease 2019. Int J Stroke [Internet]. 1 de octubre de 2020 [citado 27 de enero de 2021];15(7):733-42. Disponible en: /pmc/articles/PMC7534206/?report=abstract 20. Nepal G, Rehrig JH, Shrestha GS, Shing YK, Yadav JK, Ojha R, et al. Neurological manifestations of COVID-19: A systematic review. Crit Care [Internet]. 13 de julio de 2020 [citado 20 de diciembre de 2020];24(1). Disponible en: /pmc/articles/PMC7356133/?report=abstract 21. Wang CC, Chao JK, Wang ML, Yang YP, Chien CS, Lai WY, et al. Care for Patients with Stroke During the COVID-19 Pandemic: Physical Therapy and Rehabilitation Suggestions for Preventing Secondary Stroke. Vol. 29, Journal of Stroke and Cerebrovascular Diseases. W.B. Saunders; 2020. p. 105182. 22. Kumar A, Kumar N, Kumar A, Kumar S, Pati BK, Singh C, et al. Acute Necrotizing Encephalitis as a Probable Association of COVID-19. Indian J Crit Care Med. 30 de octubre de 2020;24(10):991-4. 23. Whittaker A, Anson M, Harky A. Neurological Manifestations of COVID-19: A systematic review and current update [Internet]. Vol. 142, Acta Neurologica Scandinavica. Blackwell Publishing Ltd; 2020 [citado 20 de diciembre de 2020]. p. 14-22. Disponible en: /pmc/articles/PMC7273036/?report=abstract 24. Wang L, Shen Y, Li M, Chuang H, Ye Y, Zhao H, et al. Clinical manifestations and evidence of neurological involvement in 2019 novel coronavirus SARS-CoV-2: a systematic review and meta-analysis [Internet]. Vol. 267, Journal of Neurology. Springer Science and Business Media Deutschland GmbH; 2020 [citado 20 de diciembre de 2020]. p. 2777-89. Disponible en: https://pubmed.ncbi.nlm.nih.gov/32529575/ 25. Montalvan V, Lee J, Bueso T, De Toledo J, Rivas K. Neurological manifestations of COVID-19 and other coronavirus infections: A systematic review [Internet]. Vol. 194, Clinical Neurology and Neurosurgery. Elsevier B.V.; 2020 [citado 20 de diciembre de 2020]. p. 105921. Disponible en: /pmc/articles/PMC7227498/?report=abstract 26. Romoli M, Jelcic I, Bernard-Valnet R, García Azorín D, Mancinelli L, Akhvlediani T, et al. A systematic review of neurological manifestations of SARS-CoV-2 infection: the devil is hidden in the details. Eur J Neurol [Internet]. 1 de septiembre de 2020 [citado 27 de enero de 2021];27(9):1712-26. Disponible en: https://www.ncbi.nlm.nih.gov/pmc/articles/PMC7300895/ 27. Leonardi M, Padovani A, McArthur JC. Neurological manifestations associated with COVID-19: a review and a call for action [Internet]. Vol. 267, Journal of Neurology. Springer; 2020 [citado 20 de diciembre de 2020]. p. 1573-6. Disponible en: /pmc/articles/PMC7238392/?report=abstract 28. Bartrés-Faz1. Bartrés-Faz D, Macià D, Cattaneo G, Borràs R, Tarrero C, Solana J, et al. The paradoxical effect of COVID-19 outbreak on loneliness. BJPsych Open. enero de 2021;7(1). D, Macià D, Cattaneo G, Borràs R, Tarrero C, Solana J, et al. The paradoxical effect of COVID-19 outbreak on loneliness. BJPsych Open. enero de 2021;7(1). 29. Coen M, Jeanson G, Culebras Almeida LA, Hübers A, Stierlin F, Najjar I, et al. Guillain-Barré syndrome as a complication of SARS-CoV-2 infection. Vol. 87, Brain, Behavior, and Immunity. Academic Press Inc.; 2020. p. 111-2. 30. Logmin K, Karam M, Schichel T, Harmel J, Wojtecki L. Non-epileptic seizures in autonomic dysfunction as the initial symptom of COVID-19 [Internet]. Vol. 267, Journal of Neurology. Springer; 2020 [citado 27 de enero de 2021]. p. 2490-1. Disponible en: https://doi.org/10.1007/s00415-020-09904-2 31. Wijeratne T, Sales CA, Crewther SG, Nguyen V, Karimi L. First Australian Case of Good Recovery of a COVID-19 Patient With Severe Neurological Symptoms Post Prolonged Hospitalization. Cureus [Internet]. 10 de septiembre de 2020 [citado 27 de enero de 2021];12(9). Disponible en: https://www.cureus.com/articles/38779-first-australian-case-of-good-recovery-of-a-covid-19-patient-with-severe-neurological-symptoms-post-prolonged-hospitalization 32. Masuccio FG, Barra M, Claudio G, Claudio S. A rare case of acute motor axonal neuropathy and myelitis related to SARS-CoV-2 infection. J Neurol [Internet]. 17 de septiembre de 2020 [citado 20 de diciembre de 2020];1:3. Disponible en: https://doi.org/10.1007/s00415-020-10219-5 33. Chia KX, Polakhare S, Bruno SD. Possible affective cognitive cerebellar syndrome in a young patient with COVID-19 CNS vasculopathy and stroke. BMJ Case Rep. 15 de octubre de 2020;13(10). 34. Asadi-Pooya AA, Simani L. Central nervous system manifestations of COVID-19: A systematic review [Internet]. Vol. 413, Journal of the Neurological Sciences. Elsevier B.V.; 2020 [citado 20 de diciembre de 2020]. p. 116832. Disponible en: /pmc/articles/PMC7151535/?report=abstract 35. Signal N, Martin T, Leys A, Maloney R, Bright F. Implementation of telerehabilitation in response to COVID-19: Lessons learnt from neurorehabilitation clinical practice and education. New Zeal J Physiother [Internet]. 4 de diciembre de 2020 [citado 27 de enero de 2021];48(3):117-26. Disponible en: https://pnz.org.nz/Folder?Action=View File&Folder_id=622&File=Pages from 83249 NZJP_Vol 48 Iss 3_Nov 2020_signal.pdf 36. Nuara A, Fabbri-Destro M, Scalona E, Lenzi SE, Rizzolatti G, Avanzini P. Telerehabilitation in response to constrained physical distance: an opportunity to rethink neurorehabilitative routines. J Neurol [Internet]. 15 de enero de 2021 [citado 27 de enero de 2021];1:3. Disponible en: https://doi.org/10.1007/s00415-021-10397-w 37. Shea BJ, Reeves BC, Wells G, Thuku M, Hamel C, Moran J, et al. AMSTAR 2: A critical appraisal tool for systematic reviews that include randomised or non-randomised studies of healthcare interventions, or both. BMJ [Internet]. 21 de septiembre de 2017 [citado 27 de enero de 2021]; 358:4008. Disponible en: http://dx.doi.org/10.1136/bmj.j4008http://www.bmj.com/