Publication:
Los jueces entre la constitución y la ley: interpretación jurisdiccional de disposiciones constitucionales y legales concurrentes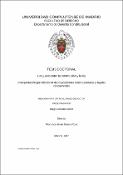 Files
Authors
Advisors (or tutors)
Editors
Publisher
Universidad Complutense de Madrid
Abstract
Las Constituciones rígidas y normativas contemporáneas son reconocidas como eficaces y con supremacía respecto de los restantes actos jurídicos del ordenamiento interno. En tal sentido, en tanto la Constitución posee la mayor fuerza del sistema, sus soluciones deben de alguna forma imponerse jurisdiccionalmente sobre las contrarias contenidas en actos subordinados. Del mismo modo, conforme un afán de consistencia sistémica, las soluciones constitucionales deben ser en algún punto consideradas en la interpretación de las disposiciones inferiores. El terreno que en los términos indicados luce firme, se torna resbaladizo una vez que se introduce el tamiz de la interpretación en un singular escenario de disposiciones materiales caracterizadas por su «apertura», de superposición entre disposiciones constitucionales y legales, y de razonables alternativas de solución en un delicado contexto de pluralidad de intérpretes. La tesis propone los lineamientos básicos de un modelo de interpretación jurisdiccional de las disposiciones constitucionales y legales identificadas como relevantes para la resolución de un caso en sistemas de Constituciones rígidas, supremas, normativas, abiertas y materiales. Dicha tarea se emprende con pretensión de generalidad y de equilibrio, fundamentalmente a partir de la idea de sistematicidad del ordenamiento jurídico, considerando así las notas liberales y democráticas positivadas -de gobierno limitado y de autogobierno- que sirven de soporte político dual de las Constituciones modernas y que, en tensión, inciden en la delimitación funcional del legislador y de los jueces. Asimismo, el análisis se centra en la interpretación de los textos normativos constitucionales y legales considerando principalmente los supuestos de dudas interpretativas en ambos niveles, las soluciones posibles y los grados de convicción a su respecto. Se aspira realizar una contribución en la materia poniendo el foco en la «antesala» interpretativa común de la inconstitucionalidad -como resultado conflictivo de la interpretación- y de la solución de un caso con compatibilidad -como resultado de una interpretación sistemática-...
Contemporaneous, rigid and binding Constitutions are recognized as efficient and superior vis-à-vis of the other legal provisions in the internal legal system. In such regard, the Constitution having superior strength within the legal system, its solutions must somehow impose themselves from a jurisdictional standpoint, over contrary solutions contained in legal provisions of lower hierarchy. Likewise, following a need for systemic consistency, constitutional solutions must somehow be taken into account in the interpretation of lower hierarchy rules. This playing field, which may seem sound and solid in its terms, becomes slippery once we introduce the filter of interpretation in one given scenery of material provisions which are characterized by their "openness", the superposition among constitutional and legal provisions and those reasonable alternatives of solutions in a delicate and plural context of interpreters. The thesis proposes the basic lines for a model of jurisdictional interpretation of legal and constitutional provisions identified as relevant for the resolution of a case within a system where Constitutions are rigid, superior, binding, open and material. Such task is undertaken with an aim of generality and balance, fundamentally starting on the idea of the systematicity of the legal system, considering liberal and democratic notes turned into law – of limited government and self-government – which act as the dual political support of modern Constitutions and, while in tension, have an impact on the functional limitation between the legislator and the judge. The analysis is also centered in the interpretation of constitutional texts as well as legal texts mainly considering the assumption of interpretative doubts at both levels, the possible solutions and the degrees of conviction in such regard. It aims to contribute in this subject by placing the focus on the common interpretative "antichambre" of unconstitutionality -as the conflictive product of interpretation- and the solution of a case with compatibility -as the product of a systemic interpretation-...
Description
Tesis inédita de la Universidad Complutense de Madrid, Facultad de Derecho, Departamento de Derecho Constitucional, leída el 10-02-2016
Collections