Publication:
Formación y profesionalización de los violinistas en Madrid (1831-1905)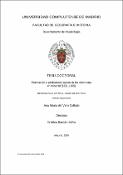 Files
Authors
Advisors (or tutors)
Editors
Publisher
Universidad Complutense de Madrid
Abstract
En esta investigación se profundiza en aspectos relativos a la formación y profesionalización del violinista en el Madrid del periodo comprendido entre los años 1831 y 1905. Como punto de partida se ha examinado el concepto de escuela y se ha estudiado el plan de estudios de violín de los conservatorios de París, Bruselas y Berlín de forma comparativa con su homólogo madrileño. Asímismo se analizan los métodos de enseñanza utilizados en estos centros ya que muchos de ellos fueron de gran influencia y empleados como textos oficiales en el Conservatorio de Madrid.Del mismo modo se han examinado otros métodos de violín de autores españoles en relación con la institución madrileña. Dando un paso más, se ha considerado la puesta en práctica de las premisas expuestas teóricamente en estos textos a través de un estudio de la profesionalización de los intérpretes, su labor como docentes en el propio conservatorio madrileño y como intérpretes en instituciones como la Real Capilla o las formaciones de cámara. Finalmente se ha analizado cómo las directrices estilísticas y técnicas recibidas a través de una formación llevada a cabo en instituciones extranjeras afectó a aspectos como la elección de un repertorio o la práctica interpretativa.
This PhD thesis explores aspects of the academical training and professionalisation of violinists in Madrid between 1831 and 1905. As a departing point the concept of "School" has been examinated. We also have analized the violin study programme in the Conservatoires of Paris, Brussels and Berlin in a comparative way to their equivalent in Madrid. Likewise we have delved into the study of other violin methods by Spanish authors related to the Conservatoire in Madrid. The next step, we have considered the implementation of the theoretically exposed premises in these texts through a research about the professionalisation of the performers, their labour as teachers in the Conservatoire of Madrid and as performers in institutions like the Royal Chapel or in chamber music. Finally we have analised how stylistic and technical directives received by these violinists through their studies abroad affected aspects like the choice of a repertoire or their performing practice.
Description
Tesis de la Universidad Complutense de Madrid, Facultad de Geografía e Historia, Departamento de Musicología, leída el 19/12/2018
Collections