Publication:
La individuación del instrumento musical en la creación experimental : hacia una poética de la diferencia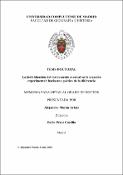 Files
Authors
Advisors (or tutors)
Editors
Publisher
Universidad Complutense de Madrid
Abstract
Desde el final de la Segunda Guerra Mundial, el instrumento musical ha ido recibiendo una creciente y renovada atención en el ámbito de la creación experimental: un fenómeno que se ha reflejado también en la literatura académica, en especial a partir de los años 90. En este sentido, se han producido cambios notables, no solo en la manera en que se trabaja con el instrumento y se hace uso de él, sino también en la forma en que éste es concebido y percibido. En esta investigación nos acercamos a dicha realidad, con la pretensión de ofrecer una visión comprehensiva del fenómeno desde un punto de vista que es, a un tiempo, musical y filosófico. En primer término, se trata de definir y caracterizar adecuadamente el instrumento musical. En este aspecto, nos alejamos de toda concepción utilitaria o esencialista, para apuntar, por el contrario, a su comprensión como "espacio productivo". Desde este punto de vista, el instrumento aparece como una entidad relacional (en tanto que ligada a un entramado de relaciones productivas), orientada a la producción física de sonido (puesto que se sostiene sobre una realidad material y energética) y vinculada de una forma íntima a un determinado contexto social e histórico (es decir, atravesada por una multitud de lazos semióticos, de hábitos de escucha y ejecución, etc.)...
Since the end of the Second World War, and especially since the end of the last century, musical instruments have received increasing attention in the field of academic creation: a phenomenon that is also reflected in academic literature. In this sense, remarkable changes have taken place, not only in the way instruments are confronted and used, but also in the way they are conceived and perceived. In this research this reality will be approached, with the aim of offering a comprehensive vision of the phenomenon from a point of view that is both musical and philosophical. First of all, it is a question of defining and characterising musical instruments adequately. In this respect, I will move away from any utilitarian or essentialist conception, and try, on the contrary, to understand it as a "productive space".From this point of view, instruments appear as relational entities (in sofar as they're linked to a network of productive relations), which are oriented towards the physical production of sound (since this is sustained by material realities and energetic processes) and intimately linked to specific social and historical contexts (that is, they're crossed by a plurality of semiotic links, listening and playing habits, etc.)...
Description
Tesis inédita de la Universidad Complutense de Madrid, Facultad de Geografía e Historia, leída el 02-11-2022
Collections