Publication:
La novela musical contemporánea: una lectura crítica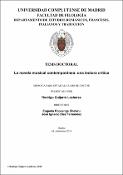 Files
Authors
Advisors (or tutors)
Editors
Publisher
Universidad Complutense de Madrid
Abstract
La escritura de textos narrativos que emulen o imiten elementos formales provenientes de la música ha ido ganando complejidad desde la segunda mitad del siglo XX. Por ello, es necesario diseñar herramientas analíticas que den cuenta de dicha sofisticación y permitan entender los mecanismos compositivos que entran en juego. Los estudios músico-literarios han evolucionado de forma acorde a la producción literaria, si bien hay aún numerosos senderos que desbrozar en este campo. No es asunto fácil, puesto que la música, al no poseer un contenido denotativo ni manejarse con conceptos, introduce una labilidad peligrosa para el crítico. Esta tesis plantea un análisis que amplía los marcos existentes, propone nuevas vías de comprensión de estos textos y, además, supone un acopio de novelas musicales sin precedentes. Además, se trata del primer trabajo en lengua española que maneja las corrientes de análisis músico-literario más difundidas en los últimos años, lo cual supone la introducción de un nuevo marco en el ámbito hispanohablante que afecta de forma directa a muchas novelas. Lo primero que el lector encontrará es una introducción en donde se precisan tres aspectos clave: la metodología, el corpus y los temas estudiados. En cuanto a la primera, si bien de carácter ecléctico y transversal, este trabajo parte de la tradición de análisis que hunde sus raíces en los estudios de Brown, pasa por autores como Scher y halla su máximo exponente en Wolf. Se trata, por otra parte, de la metodología más consolidada a nivel internacional, lo cual no quita para que interaccione e incorpore ideas provenientes de estudiosos como Prieto o Albright, más reticentes al aspecto teórico-semiótico de algunas ideas de los anteriormente mencionados. En un nivel metodológico, pretendo mostrar que no tiene por qué darse una mutua insolubilidad entre las distintas aproximaciones existentes al campo, siempre y cuando contengan observaciones valiosas, y que muchos de los conflictos que se ha querido presentar son en este punto totalmente artificiosos...
Narrative texts emulating or imitating formal elements borrowed from music have acquired an increasing complexity since the second half of the Twentieth Century. Thus, it is necessary to design new analytic tools if we are to explain their sophistication and to understand the mechanisms that come into play. Musico-literary studies have evolved accordingly to literary output, yet there are still many areas to explore and paths to clear. It is not an easy task, given the fact that music does not have a denotative content and often introduces a dangerous elusiveness for scholars. This doctoral thesis sets out a thorough analysis that widens the existing frames, proposes new ways to understand how musical novels function and, additionally, involves a tracking and gathering of this kind of texts without precedents. Moreover, it is the first study in Spanish that assimilates the main trends in musico-literary analysis developed over the last decades. This implies introducing a whole new frame in Spanish speaking academia that bears a direct impact on many novels. The first thing that the reader will encounter is an introduction where three main aspects are established: methodology, corpus and topics addressed. Concerning the first, my aim is to show that there is no reason to consider that there is any insolubility among the different approaches to this field, provided that they contain useful insights, as well as the fact that many of the alleged conflicts are rather artificial...
Description
Tesis de la Universidad Complutense de Madrid, Facultad de Filología, Departamento de Estudios Románicos, Franceses, Italianos y Traducción, leída el 18/12/2018. Retirada por expreso del autor.
Collections