Publication:
Morbimortalidad en una cohorte de recién nacidos menores de 1500 gramos: análisis comparativo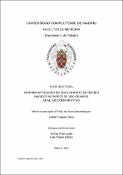 Files
Authors
Advisors (or tutors)
Editors
Publisher
Universidad Complutense de Madrid
Abstract
El aumento del número de RNMBP asociado a una mayor supervivencia de los mismos conlleva un riesgo inherente de secuelas en los supervivientes. Las tasas de mortalidad y secuelas son mayores a medida que disminuye la edad gestacional y el peso de estos recién nacidos. En las bases de datos neonatales, como la Vermont Oxford Network (VON) o la SEN 1500 se recogen datos epidemiológicos y clínicos que permiten realizar estudios de morbimortalidad neonatal, identificar factores pronósticos y establecer la variabilidad intercentros. Material y métodos. Ventajas y sesgos del estudio Se analizaron con el programa SPSS 20.0 los datos de morbimortalidad de 620 menores de 1500 gramos de nuestro centro, y los de un grupo de 15 hospitales similares del grupo SEN 1500 (12031 RNMBP). Los resultados fueron estratificados (peso al nacimiento, edad gestacional, y crecimiento intrauterino restringido o no) y expuestos en tablas comparativas (Hospital Clínico San Carlos vs SEN 1500) expresando las frecuencias absolutas y relativas, con medias y desviación estándar o medianas con rango intercuartílico. También se realizaron gráficos radiales para posicionar nuestros resultados en el contexto del resto de hospitales del estudio ("Benchmarking") y un análisis multivariante de mortalidad. Para mejorar la validez interna y evitar el sesgo de selección, se incluyó el 100% de pacientes reclutados prospectivamente en la base de datos durante 2002-2012, a excepción de los años 2010 y 2011 en los que no se registraron pacientes...
The rates of VLBW are increasing and the survival in these neonates are increasing too, so consequently there is a high risk of sequelae in survivors. The mortality and morbidity are higher with decreasing gestational age and weight of these infants. Epidemiological and clinical data from neonatal bases, such as Vermont Oxford Network (VON) and the SEN 1500, can be used to identify morbidity and morbility risk factors and the variability between centers. Materials and Methods. Advantages and biases An analysis of prospectively collected data in SEN 1500 about morbidity and mortality in newborns less than 1500 was performed. SPSS 20.0 software was used. 620 VLBW from HCSC and 12031 from SEN 1500 group (15 centers) were included. The results were stratified (birth weight, gestational age and intrauterine growth restricted or unrestricted) and exposed in comparative tables (HCSC vs SEN 1500). Absolute and relative frequencies, means and standard desviations or medians with interquartile range were expressed. Radar charts were also made to position our results in the context of other hospitals in the study ("Benchmarking"). A multivariate analysis of mortality was performed too. Data from 100 % patients during 2002-2012 were included to improve internal validity and to avoid selection bias; 2010-2011 no patients were reported. For avoid misclassification bias data variables were collected by standardized SEN 1500 protocol. It was considered a good precision and high external validity because of large sample size and selected SEN 1500 centers...
Description
Tesis inédita de la Universidad Complutense de Madrid, Facultad de Medicina, Departamento de Pediatría, leída el 08-02-2016
Collections