Publication:
Efecto de lo inconsciente en-cuerpo: la sustancia gozante en Lacan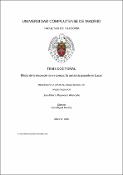 Files
Authors
Advisors (or tutors)
Editors
Publisher
Universidad Complutense de Madrid
Abstract
The conceptions about the body in Psychoanalisis are under certain influence by the cartesian model. Although a tight relationship exists between psyche and soma, a difference is raised. It is not about separating analytically and conceptually those terms, but about the kind of conception that is is held to operate with the notion of the unconscious. Lacan suggested an original conceptualization regarding this distinction between thought and body. He suggested a substance other that leaves the classic modern dualism. It addresses the substance jouissante. This thesis attempts to review that theoretical articulation in Jacques Lacan's work. To do such a review entails questioning conceptions about the body, the unconscious, and the significant that this psychoanalyst holds all along his thirty years of teaching. It will be through this aspect of the word's function and the language's field, that the substance will be introduced in his teaching, in his theoretical proposals. Nevertheless, there are many authors in the thought tradition, that serve him as reference, source, and interlocutors, even as "mute interlocutors". Aristotle and Descartes, punctually, will be object of his interest in order to conceive that peculiar substance that the unconscious, the jouissance, the body, is. Is is not just Freud who orientates his proposals and innovations, but many other authors who remain apart from psychoanalysis; references that did not have any relevance for the viennese thinker and that, on the contrary, take a great importance. Many of them accompany the development that will be taken forward here, in what will be a sinuous path to approach the Lacan's subverted substance, the substance. This proposal of an innovating substance for psychoanalysis, proclaims itself as the main purpose of this research. Next to the thinking substance and the extended substance, another substance -which tells about human condition and about the singular of subjectivity-, emerges and is included in modern history. Therefore, in the frame of Lacan's notion of the unconscious -that at the same time we are trying to show as innovative in psychoanalysis- , the concepts of body and jouissance will be under study here. A review of such concepts will take us to a singular conception in his own work. Body, jouissance, and signifier, will result in a novel substance according to which we will attempt to elucidate from the lacanian teaching..
Description
Tesis inédita de la Universidad Complutense de Madrid, Facultad de Filosofía, leída el 26-10-2015
Collections