Publication:
Ethnographic filmmaking as narrative capital enhancement among Atauro diverwomen: a theoretical exploration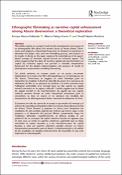 Advisors (or tutors)
Editors
Abstract
This article reports on a project involving the development and release of an ethnographic film about the women divers of Atauro Island, Timor- Leste, and suggests a theoretical framework to interpret its outcomes. It describes the project aims and the filmmaking process, and reports on its results. In doing so, the paper explores the potential use of an agent- based concept of narrative capital focused on collective agents. The article suggests that the ideas of narrative capital and transformations of capital by collective agents can provide a valuable interpretative framework for the design, implementation, and analyses of results of development interventions involving filmmaking.
El presente artículo da cuenta de un proyecto que implicó el montaje y el estreno de una película etnográfica sobre las mujeres buceadoras de la isla de Atauro, Timor Oriental, y propone un marco para interpretar sus resultados. En este sentido, examina los motivos que dieron lugar a este proyecto y el desarrollo del proceso fílmico, presentando luego los resultados obtenidos. Específicamente, el artículo analiza el uso potencial de un concepto de capital narrativo basado en agentes que, en este caso, se centra en agentes colectivos, sugiriendo que las ideas vinculadas al capital narrativo y a las transformaciones de capital llevadas a cabo por agentes colectivos pueden proveer un marco interpretativo prometedor para el diseño, la implementación y el análisis de los resultados de aquellas intervenciones de desarrollo en que esté implicada la cinematografía.
Cet article présente un compte rendu sur un projet concernant l'élaboration et la sortie d'un film ethnographique sur les plongeuses de l'île Atauro, Timor-Leste, et suggère un cadre théorique pour en interpréter les résultats. Il décrit les objectifs du projet et le processus de réalisation du film, et en présente les résultats. Cet article examine aussi l'utilisation potentielle d'un concept basé sur des agents du capital narratif concentré sur les agents collectifs. Il article suggère que les idées de capital narratif et de transformations du capital par des agents collectifs peuvent fournir un cadre interprétatif prometteur pour la conception, la mise en œuvre et les analyses des résultats des interventions de développement faisant intervenir la réalisation de films
Collections