Publication:
Yermo: la relación entre la naturaleza y vida en los trascendentalistas norteamericanos del siglo XIX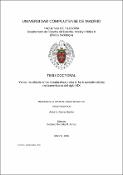 Files
Authors
Advisors (or tutors)
Editors
Publisher
Universidad Complutense de Madrid
Abstract
El Trascendentalismo es el primer movimiento filosófico estadounidense y su retórica se concentra en el efecto del vigoroso ambiente natural-orgánico del Nuevo Mundo norteño sobre el ser humano y el papel que juega el primero en mantener su salud espiritual del segundo. El Trascendentalismo surge en la zona de los asentamientos coloniales británicos más antiguos; en New England. El curso de la indagación comienza con la evaluación comparativa de dos textos neurálgicos en la evolución del pensamiento filosófico norteamericano. El primero, de 1765 (una publicación póstuma de un texto escrito en los 1750's), consta de una disertación teosófica sobre el mayor motivo de Dios al crear el mundo natural, del ministro protestante reformista, Jonathan Edwards. El segundo texto es un ensayo, o manifiesto, del padre del Trascendentalismo, Ralph Waldo Emerson, titulado Nature de 1836. En el siglo XIX coexistían valores religiosos atávicos del proceso de colonización británico junto a los nuevos valores liberales e ilustrados que informaron la Guerra de Independencia Americana. Además, ardían hábitos culturales encontrados entre los americanos y los nativos originarios. Estos últimos guardaban un respeto inusual por la naturaleza que se incorporaba en las costumbres de habitación y uso de la misma y que eran intrínsecamente distintas a las actitudes propietarias importadas del Viejo Mundo, radicadas en el derecho a la propiedad privada como valor supremo...
Transcendentalism is the first philosophical movement in the United States. Its rhetoric latched on to the New World's vigorous natural-organic environment that they understood was essential to mankind's spiritual well-being. Transcendentalism is centered in New England, at the heart of the oldest British colonial settlements. The research starts out comparing two key texts of early philosophical thought in the United States. The first, a posthumous publication in 1765 (written in the 1750's) , is a theosophical dissertation on God's ultimate purpose for creating the natural world by Jonathan Edwards, a reformed protestant minister. The second is an essay by Ralph Waldo Emerson – "Nature" (1836) – that turned out to be the transcendentalist manifesto. In the 19th century, the religious fervor of the British colonies coexisted with the new liberal values that had given rise to the American War of Independence. In addition, there was a cultural tension between the natives and American colonials rising from two different world views. The American Indian's respect for nature translated into their practices of habitation and land use. The native values were intrinsically at odds with the colonials approach to proprietorship; derived from European notions of the inalienable right to private property...
Description
Tesis inédita de la Universidad Complutense de Madrid, Facultad de Filosofía, Departamento de Filosofía del Derecho, Moral y Política II (Ética y Sociología), leída el 11-12-2015
Collections