Publication:
La construcción del personaje en el relato cinematográfico : héroes y villanos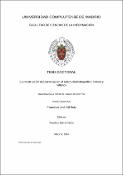 Files
Authors
Advisors (or tutors)
Editors
Publisher
Universidad Complutense de Madrid
Abstract
En esta tesis se muestra una nueva forma de crear personajes en el guión cinematográfico; personajes que tienen el reto de persistir en la memoria del espectador, y vencer al paso de los años. La clave se centrará en analizar los puntos comunes en la transformación de conocidos héroes y villanos de importantes películas estadounidenses. Para ello, antes de nada se prestará especial importancia a los elementos que componen la creación de dichos personajes, haciendo hincapié en la narrativa presente en el guión cinematográfico, en los engranajes del discurso, y en definitiva, en la creación del personaje cinematográfico. La postura del espectador respecto al filme se erige como factor crucial en la construcción de personajes, ya que la identificación con los mismos se presta a la presentación de un nuevo modelo al respecto, y que se entrelaza a su vez con nuevas pautas dedicadas a explicar la transformación del personaje. Todo ello se encamina hacia un exhaustivo análisis fílmico en el que se establece la relación existente en la dicotomía entre del héroe y el villano, y queda concretada la relación entre los términos "villano" y "antihéroe": un villano protagonista entra en la categoría de antihéroe, pero no deja de ser un villano. A lo largo del trabajo se confirman importantes claves universales acerca de la naturaleza del personaje protagonista en el cine en lo referente a su transformación, ya que atraviesa por una serie de puntos clave en su camino en la historia hasta llegar al final, y resolverse como realmente son, tanto en el caso de los héroes, como en el de los antihéroes (villanos en este caso). Los resultados ofrecen un horizonte rico en opciones a la hora de crear personajes cinematográficos. [ABSTRACT]In this thesis, a new way of creating characters in cinematographic scriptwriting is shown. These characters accept the challenge to persist in the memory of the audience and beat the passage of time. The key will focus on the common points of the transformation of heroes and villains from important American films. To do this, the first step is giving special importance to the elements which complete these characters, emphasizing the present narrative in the screenplay and, all in all, in the creation of the cinematographic character. The position of the viewer in relation to the character stands as a crucial factor when building characters, as the identification with them is paid to the presentation of a new model on the matter. This is also intertwined with new guidelines dedicated to explaining character transformation. All thesematters head towards a comprehensive film analysis that sets the relationship in the dichotomy between hero and villain, and also sets relationship between the terms "villain" and "anti-hero": the last one understood as a protagonist villain in many cases. Throughout the paper important clues about the universal nature of the main character in the film, in terms of its transformation, are confirmed because the research crosses a series of key points in the story on its way to the end. These are resolved as they really are, both in the case of heroes, and antiheros (villains in this case).The results provide a horizon rich in options for creating movie characters.
Description
Tesis inédita de la Universidad Complutense de Madrid, Facultad de Ciencias de la Información, leída el 06-03-2014
Collections