Publication:
Peridotite xenoliths from the Morrón de Villamayor volcano (Calatrava Volcanic Field)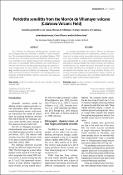 Advisors (or tutors)
Editors
Publisher
Sociedad Geológica de España
Abstract
The El Morrón de Villamayor (MVM) peridote xenoliths vary from orthopyroxene-poor lherzolite to wehrlite in modal composition. This compositional feature contrasts with other Calatrava (CVF) xenolith suites. The studied xenoliths equilibrated at lower temperatures (618-942 o C) and slightly shallower (8.8-13.6 kbar) conditions than other CVF peridotites. MVM peridotites show local intense interaction with the host leucitite displaying spongy rims around primary clinopyroxene and also reaction zones with K-rich minerals (e.g., sanidine, leucite and richterite) and widespread clinopyroxene, olivine and spinel neoblasts. Nevertheless, the orthopyroxene-poor character of MVM peridotites might be caused by some previous metasomatic event.
Los xenolitos peridotíticos del volcán El Morrón de Villamayor (MVM) son lherzolitas pobres en ortopiroxeno y wehrlitas, en contraste con los datos previos de xenolitos de otros volcanes de Calatrava. Las peridotitas estudiadas están equilibradas a temperaturas más bajas (618-942 o C) y menor profundidad (8,8-13,6 kbar) que las estimadas en otras peridotitas del Campo Volcánico de Calatrava. Localmente hay una intensa interacción del fundido leucitítico con los minerales primarios de la peridotita, ya que se originan zonas de reacción con minerales ricos en K (p.ej., sanidina, leucita y richterita) y frecuentes neoblastos de clinopiroxeno, olivino y espinela. El carácter pobre en ortopiroxeno de las peridotitas MVM debe estar causado por algún evento metasomático previo
Collections