Publication:
Resultados a largo plazo del trasplante hepático mediante la utilización de injertos hepáticos procedentes de donantes con muerte circulatoria (Maastricht tipo II)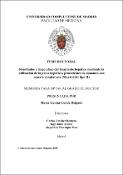 Files
Authors
Editors
Publisher
Universidad Complutense de Madrid
Abstract
El trasplante hepático es el mejor tratamiento para la enfermedad hepática avanzada. Su desarrollo ha condicionado un aumento progresivo de las indicaciones para el trasplante y, por tanto, del número de inclusiones en lista de espera que, sin embargo,no se acompaña de un aumento del número de donantes. Esta desproporción entre el número pacientes en espera y el número de donantes ha impulsado la búsqueda de alternativas al donante tradicional, como los donantes no convencionales o de criterios expandidos. Entre estos destacan los donantes después de muerte cardiocirculatoria, una fuente importante de injertos que, sin embargo, está limitada por una mayor tasa de fallo primario del injerto y complicaciones biliares,especialmente la colangiopatía isquémica. La selección idónea de donantes y receptores, y la optimización de los procedimientos de extracción y preservación de estos injertos son fundamentales para obtener resultados comparables a aquellos condonantes convencionales...
Liver transplantation is an established treatment for end-stage liver disease. Its development has conditioned a progressive increase in liver transplant indications, and an increase in the number of waitlist inclusions that has not been accompanied by a similar raise in the number of donors. This imbalance between the number of waitlisted patients and the number of donors has driven the search for alternatives to the traditional donor, such as non-conventional donors or expanded criteria donors. Among these, donors after cardiac death (DCD) merit a special attention, as they are an important source of grafts that is, nonetheless, limited by a higher rate of primary graft non-function and biliary complications, especially ischemic cholangiopathy. Adequate donor and recipient selection, and the optimization of graft procurement and preservation are essential for results comparable to those obtained with conventional donors...
Description
Tesis inédita de la Universidad Complutense de Madrid, Facultad de Medicina, Departamento de Cirugía, leída el 16-12-2019
Collections