Publication:
Active tectonics of the Alhama de Murcia fault, Betic Cordillera, Spain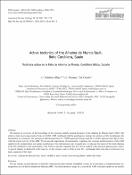 Advisors (or tutors)
Editors
Publisher
Universidad Complutense de Madrid
Abstract
We present an overview of the knowledge of the structure and the seismic behavior of the Alhama de Murcia Fault (AMF). We utilize a fault traces map created from a LIDAR DEM combined with the geodynamic setting, the analysis of the morphology, the distribution of seismicity, the geological information from E 1:50000 geological maps and the available paleoseismic data to describe the recent activity of the AMF. We discuss the importance of uncertainties regarding the structure and kinematics of the AMF applied to the interpretation and spatial correlation of the paleoseismic data. In particular, we discuss the nature of the faults dipping to the SE (antithetic to the main faults of the AMF) in several segments that have been studied in the previous paleoseismic works. A special chapter is dedicated to the analysis of the tectonic source of the Lorca 2011 earthquake that took place in between two large segments of the fault.
En este estudio se presenta una revisión del conocimiento que hasta la actualidad se tiene de la estructura y comportamiento sis-mogenético de la Falla de Alhama de Murcia (AMF). Se utiliza un nuevo mapa de la traza de la AMF realizado a partir de un modelo digital del terreno de alta resolución a partir de datos LIDAR, combinado con el análisis del marco geodinámico, la geomorforlogía, la distribución espaciotemporal de la sismicidad, la información geológica de trabajos previos y los datos paleosísmicos existentes, para describir la actividad reciente de la AMF. Se discute la importancia de las incertidumbres que se mantienen en relación con la estructura y la cinemática de la AMF para la correcta interpretación y correlación espacio-temporal de los datos paleosísmicos obtenidos hasta ahora. En particular, se discute la naturaleza de las fallas con buzamiento SE en superficie (antitéticas con las fallas principales de la AMF que bordean las sierras) en varios segmentos que han sido estudiados en análisis paleosismológicos previos. Se dedica un capítulo especial al análisis de la fuente geológica del terremoto de Lorca de 2011 que tuvo lugar en la zona de inter-segmento que separa dos de los segmentos de mayor longitud de la AMF.
Collections