Publication:
Interacción del desarrollo fonológico y morfológico en la adquisición del español : el desarrollo de las codas en la lengua materna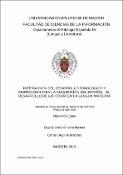 Files
Authors
Advisors (or tutors)
Editors
Publisher
Universidad Complutense de Madrid
Abstract
Bajo el marco que ofrece la fonología prosódica, esta investigación examina el desarrollo de las codas durante el proceso de adquisición del español como lengua materna, para comprobar si las restricciones fonológicas y prosódicas condicionan o no su desarrollo y el desarrollo de los morfemas que se describen en esta posición en español. Para ello, se han tenido en cuenta los factores que influyen en este proceso: las características prosódicas del input y la frecuencia de las codas en la lengua meta. Los datos que se han examinado corresponden a emisiones infantiles espontáneas de dos niños monolingües hablantes de español entre 1;7 y 2;7 años. Los resultados demuestran la interrelación esperable de los ámbitos fonológico y morfológico durante la adquisición de la lengua materna y ofrecen una explicación posible a la variabilidad interindividual e intraindividual observada en ambos niños. Framed under the Prosodic Phonology, this research looks into the development of codas in the acquisition of Spanish as first language, to ascertain if the phonological and prosodic restrictions impact on their development and also on the development of the morphemes described in that same position in Spanish. In order to do this, attention has been paid to some factors involved in this process: the prosodic characteristics of the input analyzed and the frequency of the codas in the target language. The data analyzed has been taken from two monolingual Spanish–speaking children 1;7 to 2;7 years old. Results show the expected interrelation between the phonological and morphological components during the acquisition of the first language and offer a possible explanation to the intrapersonal and interpersonal variability observed in both children.
Description
Tesis inédita de la Universidad Complutense de Madrid, Facultad de Ciencias de la Información, Departamento de Filología Española III (Lengua y Literatura), leída el 21-06-2013. (Tesis retirada por deseo de la autora en diciembre del 2013).
Collections