Publication:
Análisis de la función hemodinámica del recién nacido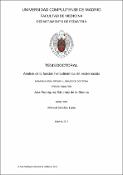 Files
Advisors (or tutors)
Editors
Publisher
Universidad Complutense de Madrid
Abstract
Se define como situación de bajo gasto cardíaco aquella en la que el corazón no es capaz de mantener un volumen minuto adecuado para satisfacer las demandas tisulares de oxígeno. Las situaciones de bajo gasto incrementan la morbi-mortalidad de los pacientes ingresados en unidades de cuidados intensivos, por lo que la prevención de aquellas condiciones que dan lugar a una inadecuada perfusión y oxigenación tisular se ha convertido en la "regla de oro" de la terapia hemodinámica. La alteración de los parámetros clásicos utilizados para la evaluación de la situación hemodinámica del paciente (frecuencia cardíaca, presión arterial, débito urinario, acidosis metabólica, lactato sanguíneo) se produce una vez fallan los mecanismos compensatorios para mantener un gasto adecuado, siendo por tanto marcadores tardíos de fallo cardiovascular establecido. Es por ello, que son necesarios dispositivos que permitan la monitorización estrecha del estado hemodinámico. En los últimos años han surgido numerosos dispositivos basados en diferentes principios fisiológicos que buscan la monitorización del gasto cardíaco como una herramienta más de trabajo en las unidades de cuidados intensivos con el objeto de individualizar en cada situación el tratamiento recibido y prevenir el fallo cardiocirculatorio. No obstante, dicha monitorización en el paciente neonatal se ha visto limitada por las características anatómicas, fisiológicas y técnicas que hacen del recién nacido crítico un paciente "diferente"...
Low cardiac output is defined by the failure to deliver an adequate amount of oxygen to the tissues. Circulatory shock is an important cause of morbidity and mortality in patients submitted to intensive care units and an early diagnosis and treatment may be life-saving, therefore preventing those situations that result in inadequate tisular perfusion and oxygenation has become the "golden rule" for the hemodynamic therapy. However, the hemodynamic status of the critically ill newborn is poorly reflected by baseline vital parameters or laboratory tests (heart rate, blood pressure, urine output, metabolic acidosis and blood lactate). An alteration in these parameters reflects an already established cardiac failure, being late indicators for cardiovascular instability. Therefore, a reliable tool for diagnosing and monitoring the heart performance and the vascular status is necessary. Many cardiac output monitoring tools, based on different physiological principles, have been developed in order to individualize the hemodynamic therapy; nonetheless, its routine use in the neonatal patients has been limited by the anatomical, physiological and technical characteristics that make the sick newborn a "different" patient...
Description
Tesis inédita de la Universidad Complutense de Madrid, Facultad de Medicina, Departamento de Pediatría, leída el 08/02/2016
Collections