Publication:
Distinguishing between Bos and Bison petrous bones. A case study: bovines from the Des-Cubierta Cave (Pinilla del Valle, Madrid)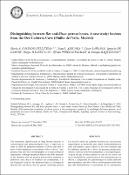 Advisors (or tutors)
Editors
Publisher
Sociedad Española de Paleontología
Abstract
The taxonomic identification of large bovine remains in archaeological and palaeontological sites is important in order to infer the palaeoenvironment of these sites and to know if their inhabitants were hunters of Bos or Bison. Their presence may also have biostratigraphic or archaeozoological implications. Although the petrous bone is one of the elements of the skeleton with the greatest preservation potential in prehistoric sites, due to its hardness and compactness, it is not frequently used by the palaeontologists to distinguish between Bos and Bison, the two genera commonly present at the sites during the Pleistocene. Due to the abundance of petrous bones at the Late Pleistocene layers of the DesCubierta cave, the aim of this work is to identify Bos and Bison in this site through the morphological features defined by Guadelli (1999) for this bone and using morphometric geometrics with material of Bos taurus, Bos primigenius, and Bison priscus in order to identify the diff erences among petrous bones of these species.
La identificación de grandes bovinos en yacimientos arqueológicos es primordial para inferir el paleoambiente de estos yacimientos y para conocer si los seres humanos que los habitaron cazaban Bos o Bison. Su presencia puede tener, además, implicaciones bioestratigráficas y ooarqueológicas. A pesar de que el hueso petroso es uno de los restos con mayor potencial de conservación en los yacimientos por su dureza y compacidad, los paleontólogos no suelen utilizarlo para discriminar entre Bos y Bison, los dos géneros de bovinos que más habitualmente se encuentran en los yacimientos pleistocenos. Debido a la abundancia de huesos petrosos que se encuentran en los niveles del Pleistoceno Superior de la cueva Des-Cubierta, el objetivo de este trabajo es diferenciar Bos y Bison en este yacimiento a partir de los criterios morfológicos defi nidos por Guadelli (1999) para este hueso y utilizar la morfometría geométrica con material de Bos taurus, Bos primigenius y Bison priscus para precisar las diferencias entre los petrosos de estas especies.
Collections