Publication:
Análisis de la retina y la vía visual mediante OCT, OCTA y test psicofísicos en sujetos asintomáticos y de alto riesgo genético para el desarrollo de Enfermedad de Alzheimer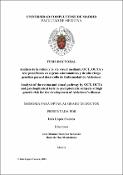 Files
Authors
Advisors (or tutors)
Editors
Publisher
Universidad Complutense de Madrid
Abstract
La Enfermedad de Alzheimer (EA) es una enfermedad neurodegenerativa progresiva que se caracteriza: por una atrofia cortical difusa, declive de las funciones cognitivas, así como la agregación anormal de proteínas como la beta amiloide fibrilar (Aß) y tau hiperfosforilada (p-Tau).El factor de riesgo prevalente es la edad avanzada, tras el cual destaca la herencia genética. Elmayor factor de riesgo genético conocido es ser portador de al menos un alelo 4 del gen de la apoliproteina E (ApoE). Otro de los factores que incrementa el riesgo para desarrollar la EA, es la historia familiar de primer grado. Los signos cerebrales de la EA aparecen décadas antes del inicio clínico de la enfermedad. Dado que la relación entre cerebro y retina se establece ya desde la etapa embrionaria, los cambios retinianos detectados con técnicas de diagnóstico oftalmológico en sujetos con alto riesgo genético para el desarrollo de EA posibilitan la identificación de potenciales pacientes de EA en etapas muy tempranas...
Alzheimer's disease (AD) is a progressive neurodegenerative disease characterised by: diffuse cortical atrophy, decline in cognitive functions, as well as abnormal aggregation of proteins such as fibrillar amyloid Beta (Aβ) and hyperphosphorylated tau(p-Tau).The prevalent risk factor is older age, after which genetic inheritance is the most important. The major known genetic risk factor is carrying at least one 4 allele of the apoliprotein E (ApoE 4)gene. Another factor that increases the risk of developing AD is a first-degree family history. Brain signs of AD appear decades before clinical onset of the disease. Since the relationship between brain and retina is established as early as the embryonic stage, retinal changes detected with ophthalmological diagnostic techniques in subjects at high genetic risk for developing AD make it possible to identify potential AD patients at very early stages..
Description
Tesis inédita de la Universidad Complutense de Madrid, Facultad de Medicina, leída el 15-07-2022
Collections