Publication:
Switchable iron(II) coordination polymers for multifunctional applications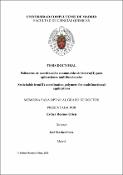 Authors
Advisors (or tutors)
Editors
Publisher
Universidad Complutense de Madrid
Abstract
In recent years, interest in coordination polymers (CPs) has grown rapidly with the demand for new materials that exhibit improved properties, are more cost-effective or can combine several desired properties. This particular development has been driven by crystal engineering, which entails the self-assembly of organic ligands and metal ions with specific functionality and directionality. This enables the design and synthesis of new molecules with targeted properties. Accordingly, a wide variety of CPs with potential applications in catalysis,1 gas sorption,2 luminescence,3 drug delivery,4 sensing,5 magnetism6 and anion exchange7 have been reported. Among them, the family of spin crossover materials (SCO) and coordination polymers exhibiting electrical properties hasgarnered considerable attention.The SCO effect occurs when the metal ion in coordination compounds undergoes a reversible and reproducible spin transition between the low spin (LS) and high spin (HS) electronic states, under the influence of external stimuli, such as temperature, pressure, light, magnetic field and the absorption/desorption of guest molecules...
En los últimos años, el interés por los polímeros de coordinación (CPs por sus siglas en inglés) ha crecido rápidamente con la demanda de nuevos materiales que presenten mejores propiedades, sean más rentables o puedan combinar varias propiedades deseadas. Este desarrollo ha sido impulsado por la ingeniería cristalina, que implica el autoensamblaje de ligandos orgánicos e iones metálicos con una funcionalidad y direccionalidad específicas. Esto permite el diseño y la síntesis de nuevas moléculas con propiedades específicas. En consecuencia, se ha publicado una amplia variedad de CPs con aplicaciones potenciales en catálisis,1 absorción de gases,2 luminiscencia,3administración de fármacos,4 detección de moléculas,5 magnetismo6 e intercambio aniónico.7 Entre ellos, la familia de materiales de transición de espín (SCO por sus siglas en inglés) y los polímeros de coordinación que presentan propiedades eléctricas han recibido una atención considerable. El efecto SCO se produce cuando el ion metálico de los compuestos de coordinación experimenta una transición de espín reversible y reproducible entre los estados electrónicos de bajo espín (LS) y de alto espín (HS), bajo la influencia de estímulos externos, como la temperatura, la presión, la luz, el campo magnético y la absorción/desorción de moléculas huésped...
Description
Tesis inédita de la Universidad Complutense de Madrid, Facultad de Ciencias Químicas, leída el 21-02-2022
Collections