Publication:
El uso de fármacos antrirretrovirales no aprobados en niños en la cohorte pediátrica con infección VIH de la Comunidad de Madrid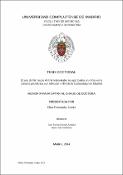 Files
Authors
Advisors (or tutors)
Editors
Publisher
Universidad Complutense de Madrid
Abstract
La infección por el VIH en niños tiene una progresión más rápida que en adultos y el arsenal terapéutico disponible es escaso, haciendo que haya que tratar fuera de las indicaciones de la ficha técnica (off-label) Estudiamos uso de fármacos off-label en la Cohorte de niños menores de 18 años, infectados por el VIH en la Comunidad de Madrid. Estudio retrospectivo de cohortes multicéntrico de Marzo 1988-Diciembre 2011. Se excluyeron pacientes fallecidos y aquellos infectados por vía no vertical. Comparamos los pacientes tratados off-label con los tratados acorde a ficha técnica, encontramos significativo; menor edad al diagnóstico (1.7 vs 3.5 años), etnia blanco-caucasiana (79% vs 67%), nacidos en España (89% vs 75%), tasa de coinfección por el virus de la hepatitis C (8.6% vs 1.1%), peor situación clínica según la clasificación CDC (estadio C 35% vs 13%) y menor media del porcentaje de los CD4 nadir (14 vs 17%). Un 70% de los pacientes recibió fármacos off-label, un 23% de todas las prescripciones. Los motivos de prescripción off-label fueron inicio o fallo de tratamiento, durante los primeros años de la epidemia, tras 2001 también para simplificar el mismo. Los efectos secundarios tras uso off-label fueron frecuentes (34%), de predominio gastrointestinal (52%). Llevaron a la suspensión en el 12% de los casos. Un 10% de los niños tratados off-label fueron sobredosificados y un 10% infradosificados. Se encontró fallo en el tratamiento en el 50% de los infradosificados vs, 26% en los que recibieron la dosis correcta (p<0.05). Problemas con la ingesta del fármaco llevó a su suspensión en un 3%, generalmente cuando la formulación no era apropiada para la edad (p<0.05). Se necesita disponer de más datos de farmacocinética para evitar el riesgo de sobredosificación e infradosificación y evitar exponer a los niños a selección de resistencias y fallo de tratamiento.
HIV infected children have a different immune response and evolution of the disease when compared to adults. There are few therapeutic options, especially in the very young, where off-label use or ARV is common. We determined the off-label use in the cohort of children and adolescents under 18 years living with HIV in Madrid. We designed a retrospective multicenter cohort study from March 1988 to December 2011. We excluded patients who died and those of non vertical transmission. When comparing the patients treated off-label with those that received approved for age and weight drugs, we found significant; lower age at diagnosis (1.7 vs 3.5 years), white Caucasian ethnicity (79% vs 67%), to be born in Spain (89% vs 75%), higher rate of hepatitis C confection (8.6 % vs 1.1 % ), worse clinical status according to the CDC classification (stage C 35 % vs 13 %) and lower mean percentage of CD4 nadir (14% vs 17%). We found that 70% of the patients took off-label drugs, 23% of all the prescriptions. The main reasons for prescribing off-label were for starting treatment and after treatment failure, during the first years of the epidemic, and after 2001 also treatment simplification. Side effects after off-label use was common (34%), mainly mild gastrointestinal symptoms (52%), and this led to treatment interruption in 12% of the cases. Up to 10% of ARV were overdosed and 10% underdosed (25% above or below the recommended dose). Treatment failure occurred in 50% of underdosed vs, 26% non-underdosed (p< 0.05). Problems taking the drug led to withdrawal in 3%, more likely when formulation was not suitable for age (p<0.05). Pharmacokinetic studies are needed as misdosing may occur when prescribing off-label. Most importantly, underdosing may lead to treatment failure due to resistance.
Description
Tesis inédita de la Universidad Complutense de Madrid, Facultad de Medicina, Departamento de Pediatría, leída el 14-03-2014
Collections