Publication:
Measurement of Higgs boson production via gluon fusion in the H WW decay channel with the CMS experiment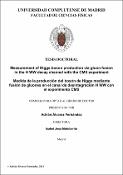 Files
Authors
Advisors (or tutors)
Editors
Publisher
Universidad Complutense de Madrid
Abstract
This thesis reports measurements of the Higgs boson production in proton-proton collisions at a centre-of-mass energy of 13 TeV with data collected by the CMS experiment during the Run 2 operation period (2016-2018) of the Large Hadron Collider at CERN. The measurement is performed using a sample of event candidates to originate from the decay of a Higgs boson into a pair of W bosons, which then decay into a charged lepton and a neutrino resulting in a final state with two charged leptons of different flavour. The thesis focuses on the study of the Higgs boson production through the gluon fusion process, which is the most favoured one at a centre-of-mass energy of 13 TeV. The optimisation of the physics object selection in the CMS configuration during the Run 2 is described first. Then, the evaluation of the main backgrounds are carefully scrutinised and the signal selection is decided. The main physics result is the Higgs boson production cross section, quantified in terms of a signal strength modifier, which is defined as the ratio of the observed cross section and the prediction from the Standard Model. The analysis is carried out in the inclusive phase space and in fine-grained exclusive phase space bins in the so-called Simplified Template Cross-Section (STXS) framework. The STXS framework has been developed with the aim to reduce the dependence on the underlying physics model and its theoretical uncertainties, while keeping a high sensitivity of the measurements...
Esta tesis presenta el análisis de la medida de la producción del bosón de Higgs en colisiones protón-protón a una energía del centro de masas de 13 TeV. Los datos de dichas colisiones fueron tomadas por el experimento CMS durante el periodo de operación del Run 2 (2016-2018) del Gran Colisionador de Hadrones (LHC) en el CERN. Las medidas se han realizado utilizando una muestra de sucesos cuyas características serían compatibles con la desintegración de un bosón de Higgs a un par de bosones W, que a su vez se desintegrarían en un par de leptones cargados de distinto sabor y neutrinos. La tesis se centra en el estudio de la producción de bosones de Higgs con el proceso de fusión de dos gluones, que es el dominante a una energía de centro de masas de 13 TeV. Se describe en primer lugar la selección de los elementos del análisis en la configuración usada por CMS. Después, los fondos principales se evalúan detalladamente y se decide cómo realizar una selección enriquecida en sucesos de señal. El principal resultado del estudio es la sección eficaz de producción del bosón de Higgs, cuantificada mediante un modificador a la intensidad de la señal, definido como el cociente entre la sección eficaz observada y la predicción del Modelo Estándar. El análisis se lleva a cabo en el espacio de fases inclusivo y en determinadas regiones del espacio de fases aisladas y con una granularidad fina utilizando un modelo de secciones eficaces simplificadas (Simplified Template Cross-Sections o STXS). Este entorno de trabajo ha sido desarrollado con el objetivo de reducir la dependencia en el modelo teórico subyacente y sus incertidumbres, manteniendo al mismo tiempo la máxima sensibilidad posible en las medidas...
Description
Tesis inédita de la Universidad Complutense de Madrid, Facultad de Ciencias Físicas, leída el 26/01/2021
Collections