Publication:
Tectonic model for the latest Triassic-Early Jurassic extensional event in and around the Iberian Peninsula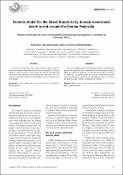 Advisors (or tutors)
Editors
Publisher
Sociedad Geológica de España
Abstract
An array of 200-Ma-old (Lower Jurassic) dolerite dikes in both the eastern and western sides of the Atlantic records an episode of SE directed extension which occurred in and around the Iberian Peninsula. This extensional regime episode is responsible for the formation of the main structures in the Iberian Peninsula and neighboring areas at the beginning of the Jurassic.
Una serie de diques básicos de edad Jurásico Inferior (200 Ma), tanto en las zonas orientales como occidentales del dominio Atlántico, permite definir un episodio de extensión con dirección SE que afectó a la Península Ibérica y a las regiones vecinas. Este episodio de régimen extensional es responsable de la formación de las principales estructuras de la Península Ibérica y áreas próximas al comienzo del Jurásico.
Collections