Publication:
Discovery of TeV γ-ray emission from the neighbourhood of the supernova remnant G24.7+0.6 by MAGIC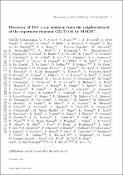 Authors
Carreto Fidalgo, David Friedrich
Fonseca González, Mª Victoria
Advisors (or tutors)
Editors
Abstract
SNR G24.7+0.6 is a 9.5 kyrs radio and gamma-ray supernova remnant evolving in a dense medium. In the GeV regime, SNR G24.7+0.6 (3FHL J1834.1-0706e/FGFS J1834.1-0706) shows a hard spectral index (Gamma similar to 2) up to 200 GeV, which makes it a good candidate to be observed with Cherenkov telescopes such as MAGIC. We observed the field of view of SNR G24.7+0.6 with the MAGIC telescopes for a total of 31 h. We detect very high-energy gamma-ray emission from an extended source located 0.34 degrees away from the centre of the radio SNR. The new source, named MAGIC J1835-069 is detected up to 5 TeV, and its spectrum is well-represented by a power-law function with spectral index of 2.74 +/- 0.08. The complexity of the region makes the identification of the origin of the very high-energy emission difficult; however, the spectral agreement with the LAT source and overlapping position at less than 1.5 sigma point to a common origin. We analysed 8 yr of Fermi-LAT data to extend the spectrum of the source down to 60 MeV. Fermi-LAT and MAGIC spectra overlap within errors and the global broad-band spectrum is described by a power law with exponential cut-off at 1.9 +/- 0.5 TeV. The detected gamma-ray emission can be interpreted as the results of proton-proton interaction between the supernova and the CO-rich surrounding.
Description
© 2018 The Author(s) Published by Oxford University Press on behalf of the Royal Astronomical Society. Artículo firmado por 153 autores. We would like to thank the Instituto de Astrofísica de Canarias for the excellent working conditions at the Observatorio del Roque de los Muchachos in La Palma. The financial support of the German BMBF and MPG, the Italian INFN and INAF, the Swiss National Fund SNF, the ERDF under the Spanish MINECO (FPA2015-69818-P, FPA2012-36668, FPA2015-68378-P, FPA2015-69210-C6-2-R, FPA2015-69210-C6-4-R, FPA2015-69210-C6-6-R, AYA2015-71042-P, AYA2016-76012-C3-1-P, ESP2015-71662-C2-2-P, CSD2009-00064), and the Japanese JSPS and MEXT is gratefully acknowledged. This work was also supported by the Spanish Centro de Excelencia 'Severo Ochoa' SEV-2012-0234 and SEV-2015-0548, and Unidad de Excelencia 'María de Maeztu' MDM-2014-0369, by the Croatian Science Foundation (HrZZ) Project IP-2016-06-9782 and the University of Rijeka Project 13.12.1.3.02, by the DFG Collaborative Research Centres SFB823/C4 and SFB876/C3, the Polish National Research Centre grant UMO-2016/22/M/ST9/00382 and by the Brazilian MCTIC, CNPq, and FAPERJ.
Collections