Publication:
Repercusión potencial en la cabaña apícola española de agentes nosógenos detectados en colonias de "Apis mellifera iberiensis"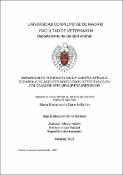 Files
Advisors (or tutors)
Editors
Publisher
Universidad Complutense de Madrid
Abstract
La sanidad de las abejas melíferas es un tema de actualidad debido al importante papel que estos insectos juegan tanto en la polinización como en la producción de productos únicos como la miel o la jalea real. Debido a que las abejas son susceptibles a una amplia variedad de enfermedades y amenazas medioambientales, el objetivo principal de este estudio fue identificar aquellos agentes nosógenos relacionados con las pérdidas de colonias de abejas melíferas (Pe) en España. Para ello se ha realizado un estudio transversal nacional durante los años 2006 y 2007 y otro regional, en la comunidad autónoma de Galicia, durante el año 2008. Además, se han desarrollado nuevas técnicas moleculares más fiables, rentables, rápidas y sensibles que las clásicas, capaces de detectar uno (PeR) o varios agentes patógenos (PeR múltiple) en mono o co-infecciones aún cuando la enfermedad no se manifiesta. Los resultados del estudio nacional muestran una alta detección de Nosema ceranae y Varroa destructor (haplotipo coreano). La alta prevalencia detectada del primer agente lo sitúa en un primer plano dentro de las posibles causas de pérdidas de colonias de las abejas. El ácaro Varroa es responsable de una de las plagas mejor conocidas de A. mellifera, y puede causar pérdidas similares a las producidas por N. ceranae; actualmente debido al uso incorrecto de los medicaciones o sus posologías está considerado como responsable de la re-emergencia de la varroosis en nuestro país. Una combinación de ambos agentes nosógenos, asociados a otros de menor importancia como N. apis y A. woodi, podrían aprovechar la deficiencia inmunitaria provocada por los primeros e incrementar la probabilidad de muerte de colonias infectadas sin que los pesticidas ejerzan un efecto significativo ya que los bajos niveles de residuos detectados en polen (principalmente acaricidas), sugiere que aquellos productos u otros agrotóxicos comúnmente usados en España no están directamente relacionados con el problema generalizado de las pérdidas de colonias de abejas. Los resultados del estudio realizado en Galicia, resolvieron las lagunas que quedaron pendientes en el estudio nacional. La respuesta incompleta sobre la valoración de las colmenas perdidas o repuestas por parte de los apicultores impidió el análisis estadístico de regresión y espacial, desencadenante de la repetición del estudio en una zona especialmente afectada por este fenómeno. Estos análisis permitieron identificar la presencia de N. ceranae como la variable principal asociada con el fenómeno de pérdida de colonias. El escenario encontrado en esta representativa zona de España, con una alta prevalencia de éste fenómeno, infección por virus, V. destructor y A. woodi, y la ausencia de pesticidas en los cultivos, sugiere que este fenómeno además está relacionado con el deficiente control de los agentes nosógenos de origen biótico (principalmente V. destructor) más que con los pesticidas y los efectos de toxicidad medioambiental. [ABSTRACT]Nowadays, honey bee health is a really current issue due to the important role both in pollination and in the production of unique products such as honey or royal jelly. Due to honey bees are susceptible to a wide variety of diseases and environmental threats, the main aim of this study was to identify those nosogenic agents related to honey bee colony losses (eL) in Spain. To this end, a national cross¬sectional study was conducted according to the census of beekeepers in every Spanish region (Autonomic communities) and conducted during the years 2006 and 2007, and another at the regional level, in the Galicia region, in 2008. As well, new molecular techniques much more reliable, cost effective, rapid and sensitive than classical techniques were developed. The results on the national survey showed a high detection of Nosema ceranae and Varroa destructor (Korean haplotype). The high prevalence of the first pathogen detected puts it in a close within the possible causes of colony losses of bees. Varroa mite is responsible for the best-known pest of Apis mellifera and it can also cause losses similar to those produced by N. ceranae; nowadays, V. destructor is considered responsible for re-emergent varroosis in our country due to incorrect treatments and dosage. A combination of both pathogenic agents associated with other underestimated such as Nosema apis and Acarapis woodi, could take advantage of the immune deficiency caused by the first. And so, the likelihood of death of infected colonies could increase without pesticides exert a significant effect since the low levels of residues detected in pollen (acaricides, mainly), suggest that those products or other pesticides commonly used in Spain are not directly related to the widespread problem of honey bee colonies. The results of the study in Galicia address the gaps that have been left open in the national study. The incomplete response on the valuation of colonies lost or replaced by beekeepers prevented regression and spatial statistic analysis. This fact triggers repeat study in an area particularly affected by this phenomenon. Theses analysis allowed the identification of the presence of N. ceranae as the main variable associated with the phenomenon of colony lost. The representative scenario found in this area of Spain, with a high prevalence of this phenomenon, virus infection, V. destructor and A. woodi, and the absence of pesticides on crops, suggests that this phenomenon is also related to poor control of pathogenic agents (V. destructor mainly) rather than pesticides and environmental toxicological effects.
Description
Tesis inédita de la Universidad Complutense de Madrid, Facultad de Veterinaria, Departamento de Sanidad Animal, leída el 28-06-2012
Collections