Publication:
Comportamiento tecnológico y pautas de internacionalización : un análisis comparado de las economías europeas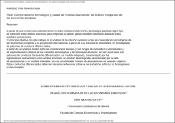 Files
Authors
Advisors (or tutors)
Editors
Publisher
Instituto de Análisis Industrial y Financiero, Universidad Complutense de Madrid
Abstract
A pesar de que numerosos estudios teóricos sobre internacionalización y tecnología plantean algún tipo de conexión entre ambos procesos para empresas o países, pocos estudios empíricos analizan estas posibles asociaciones. El principal objetivo de este trabajo es el análisis de la relación existente entre las capacidades tecnológicas de las economías europeas y su proyección internacional, a partir de sus estructuras sectoriales, en la búsqueda de patrones de conducta diferenciados. A partir de un análisis cluster entre las correlaciones lineales y por rangos de indicadores porcentuales y de especialización relativa de las variables tecnológicas y de internacionalización, se han observado tres patrones de conducta claramente diferenciados: un modelo integrado, caracterizado por las significativas asociaciones entre ambos procesos; un modelo desintegrado, determinado por la falta de asociaciones y un modelo inestable, con un considerable número de asociaciones de carácter negativo. Estas conductas diferenciadas deberían hacernos reflexionar sobre la necesidad de políticas no homogéneas a nivel europeo. The main objective of this work is to analyse the relationship between the technological capability of European Economies and their international projection, trying to find different patterns of associations between both processes. Abstract: It was made a cluster analysis using lineal and rank correlations between both, sectoral percentages and specialisation indexes of technological and international variables. The results show three different patterns: An Integrated Model, where the positive correlations are very significative, a Disintegrated Model, with very few significative correlations, and an "Unstable" Model where there is a considerable number of negative associations. These results show great differences between these countries, and consequently the necessity of a non homogeneous policy in Europe.
Citation
- Barré, R. (1996) "Relationships between Multinational Firms' Technology Strategies and National Innovation Systems: A Model and an Empirical Analysis". En Innovation, Patents and technological Strategies. OCDE. París. - Bisquerra, R. (1989) Introducción Conceptual al Análisis Multivariante. PPU. Barcelona. - Cantwell, J. (1991) "La Teoría de la Competencia Tecnológica de la Producción Internacional y sus Consecuencias". Información Comercial Española, nº 652. Abril. - Caves, R.E. (1971) "International Corporations: The Industrial Economics of Foreign Investment". Economica, vol. 38, nº 149, pgs. 1-27. - Caves, R.E. (1974) "Industrial Organization". En Dunning, J.H. (de.) Economic Analysis and Multinational Enterprise. Praeger. Londres. pgs. 115-146. - Dunning, J.H. (1981) International Production and Multinational Enterprise. George Allen and Unwin. Londres. - Dunning, J.H. (1988) Explaining International Production. Unwin Hyman. Londres. - Dunning, J.H. (1995) "Revisión del Paradigma Ecléctico en una Época de Capitalismo de Alianzas". Economía Industrial, nº 305, pgs. 15-32. - Fagerberg, J. (1988) "Why Growth rates differ". En Dosi, G., Freeman, C., Nelson, R. Silverberg, G. y Soete, L. (eds.) Technical Change and Economic Theory. Pinter Publisher, Londres. - Fonfría, A. (1997) "Factores Tecnológicos y Estructurales Explicativos de la Internacionalización de las Empresas Innovadoras". IAIF, Documento de Trabajo, nº 4. - Gittleman, M. y Wolff, E.N. (1995) "R&D Activity and Cross-Country Growth Comparisons". Cambridge Journal of Economics, nº 19, pgs. 189-207. - Hymer, S.H. (1976) " The International Operations of National Firms: A Study of Direct Foreign Investment". M.I.T. Monographs in Economics, nº 14, Cambridge, Mass. - Johanson, J. y Vahlne, J. (1977) "The Internationalization Process of the Firm - A Model of Knowledge Development and Increasing Foreign Market Commitments". Journal of International Business Studies. vol. 18, nº 1, pgs. 23-32. - Johanson, J. y Vahlne, J. (1990) "The Mechanism of Internationalization". International Marketing Review, vol.7, nº 4, pgs. 11-24. - Malerba, F. y Orsenigo, L. (1995) "Schumpeterian Patterns of Innovation". Cambridge Journal of Economics, nº 19, pgs. 47-65. - Molero, J. (1997) "Internationalization of Technical Change and the Intermediate Countries. A Preliminary Approach from the Experience of South European Economies". Artículo presentado en el grupo ETAN, Technology Policy in the Context of Internationalization: How to Strenthen Europe's Competitive Advantage in Technology. DGXII. - Molero, J., Buesa, M., Casado, M., Fonfría, A., Granda, I., Gutiérrez, A. (1997) "Technological Innovation and Internationalization in South European Economies: A Sectoral Analysis". Artículo presentado para la conferencia del proyecto TSER. MERIT. Universidad de Maastricht. Abril, 18-19. - Narula, R. (1996) Multinational Investment and Economic Structure. Globalisation and Competitiveness. Roudledge. Londres. -Patel, P. y Pavitt, K. (1991) " Europe's Technological Performance". En Freeman, C., Sharp, M. y Walker, W. (eds.): Technology and the Future of Europe: Global Competition and the Environment in the 1990. Pinter Publishers. Londres. - Pearce, R. (1993) The Growth and Evolution of Multinational Enterprise. Edward Elgar. Inglaterra. - Pianta, M. (1995) "Technology and Growth in OECD Countries, 1970-1990". Cambridge Journal of Economics, nº 19, pgs. 175-187. - Pianta, M. (1997) "Growth and Specialisation in Technology, Production and trade: The Limits of Comparative Advantage". Artículo presentado para el proyecto "Technology, Economic Integration and Social Cohesion" del Programa Europeo TSER. - Porter, M. (1991) la Ventaja Competitiva de las Naciones. De. Plaza y Janes. Barcelona. - Ricardo, D. (1817) On the Principles of Political Economy and Taxation. John Murray. Londres. - Rugman, A.M. (1986) "New Theories of Multinational Enterprises: An Assessment of Internationalization Theory". Bulletin of Economic Research, vol. 38, pgs. 101-118. - Simoes, V.C. (1997) Cooperaçao e Alianças Estrategicas nos Processos de Internacionaliçao. AIP. Lisboa. - Vernon, R. (1966) "International Investment and International Trade in the Product Cycle". The Quarterly Journal of Economics, vol. 80, Cambridge. Mass, pgs. 190-207. - Vernon, R. (1974) "The Location of Economic Activity". En Dunning, J.H. (ed.) Economic Analysis and Multinational Enterprises. Praeger, Londres, pgs. 89-114.