Publication:
Pautas para realizar videolecciones de forma rentable (buenos resultados con un esfuerzo razonable)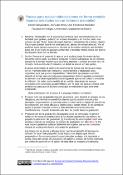 Advisors (or tutors)
Editors
Abstract
Este documento presenta un método para crear videolecciones con una buena calidad técnica y un esfuerzo razonable. Se estructura en forma de "receta" en 11 pasos que van desde la preparación del material hasta la publicación en línea. Es el resultado de dos años de experiencia realizando videolecciones con pocos medios materiales y de personal para dos proyectos de innovación educativa (PIE 193: 2017_18 y PIE 164: 2018_19) financiados por la Universidad Complutense de Madrid. Las memorias de estos proyectos, con sus resultados, pueden ser consultadas en este repositorio E-prints Complutense
This document presents a method for creating video collections with good technical quality and reasonable effort. It is structured in the form of a "recipe" in 11 steps ranging from material preparation to online publication. It is the result of two years of experience making video lessons with limited resources and staff in two Educational Innovation Projects (PIE 193: 2017_18 and PIE 164: 2018_19) funded by the Complutense University of Madrid. The reports of these projects, with their results, can be consulted in this E-prints Complutense repository.