Publication:
Infinite dimensional holomorphic non-extendability and algebraic genericity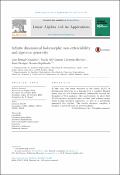 Advisors (or tutors)
Editors
Abstract
In this note, the linear structure of the family H-e(G) of holomorphic functions in a domain G of a complex Banach space that are not holomorphically continuable beyond the boundary of G is analyzed. More particularly, we prove that H-e(G) contains, except for zero, a closed (and a dense) vector space having maximal dimension, as well as a maximally generated free algebra. The results obtained complete a number of previous ones by several author.
Collections