Publication:
Los ciclos en la Mitología y en las Ciencias de la Tierra: del Calendario Azteca al Ciclo del Supercontinente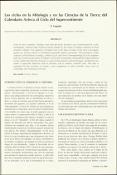 Authors
Advisors (or tutors)
Editors
Publisher
Sociedad Geológica de España.
Abstract
From its very inception, Geology (and later the Earth Sciences) was contaminated by cyclic mythologies, inspired (after historian Mircea Eliade) by the Terror of ¡History common to most primitive cultures. This negation of historic time is the base of some of the more extravagant quirks of a Science which is considered essentially historic nowadays. The persistence of the classical cycles (Hutton's Geologic, or Rock Cycle, and Davis'Geomorphological Cycle), together with new coined cycles (such as Wilson's Cycle and its extension christened the Supercontinent Cycle) could mean that this structure is a part of Humankind's cultural heritage, and that this fact makes it especially attractive both to primitive and to modern, scientific man. This idea is supported by the existence of similar, cyclic hypotheses in other scientific areas, such as Cosmology (the Pulsating Universe).
Collections