Publication:
Modulación de la sinapsis y su papel en patologías del sistema nervioso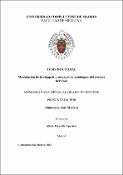 Files
Authors
Advisors (or tutors)
Editors
Publisher
Universidad Complutense de Madrid
Abstract
Las sinaptopatías son aquellas enfermedades del sistema nervioso que se producen como consecuencia de un desequilibrio en el funcionamiento normal de las sinapsis. Estas anomalías pueden deberse a un exceso en el número de sinapsis, como en los trastornos del espectro autista (TEA), o pueden ser por defecto, como la pérdida sináptica producida antes de la muerte neuronal en enfermedades neurodegenerativas. Así, el estudio de los mecanismos que controlan el número de sinapsis y su actividad es clave para el desarrollo de terapias eficaces en una amplia gama de trastornos del sistema nervioso de diferente etiología. Previamente en el laboratorio, se identificó la interacción del complejo formado por el sensor de calcio NCS1 y el intercambiador de nucleótido de guanina Ric8a como posible diana terapéutica para sinaptopatías. En este trabajo de tesis doctoral se han validado el uso de compuestos estabilizadores del complejo NCS1/ Ric8a en modelos experimentales de neurodegeneración para revertir la disfunción sináptica. Los receptores imidazólicos I2 están ampliamente distribuidos en el cerebro. Sus ligandos selectivos han demostrado que los I2 están implicados en analgesia, inflamación y otros aspectos de las patologías cerebrales humanas. La desregulación de los niveles de I2 es un sello distintivo en enfermedades como los tumores gliales, la enfermedad de Huntington, la enfermedad de Parkinson, la enfermedad de Alzheimer y la depresión entre otros. En este trabajo se ha evaluado el papel neuroprotector de análogos I2 a nivel de las sinapsis en enfermedades de etiología distinta, como la enfermedad de Alzheimer o la enfermedad de Huntington...
Synaptopathies are those diseases of the nervous system that occur as a result of an imbalance in the normal functioning of synapses. These abnormalities may be due to an excess in the number of synapses, as in autism spectrum disorders (ASD), or they may be by default, such as synaptic loss produced before neuronal death in neurodegenerative diseases. Thus, the study of the mechanisms that control the number of synapses and their activity is key to the development of effective therapies in a wide range of nervous system disorders of different etiology. Previously in the laboratory, the interaction of the neuronal calcium sensor NCS1 with the guanine exchange factor Ric8a was identified as a possible therapeutic target for synaptopathies. In this doctoral thesis, the use of NCS-1 /Ric8a complex stabilizing compounds has been validated in neurodegenerative models to reverse synapticdys function. I2 Imidazole receptors are widely distributed in the brain. Its selective ligands have shown that I2s are involved in analgesia, inflammation, and other aspects of human brain pathologies. Dysregulation of I2 levels is a hallmark of diseases such as glial tumors, Huntington's disease, Parkinson's disease, Alzheimer's disease, and depression among others. This work evaluates the neuroprotective role of I2 analogs at the synapse level in diseases models of different etiology, such as Alzheimer's disease or Huntington's disease...
Description
Tesis inédita de la Universidad Complutense de Madrid, Facultad de Medicina, leída el 17-06-2022
Collections